Graham Hughes Radio Wyvern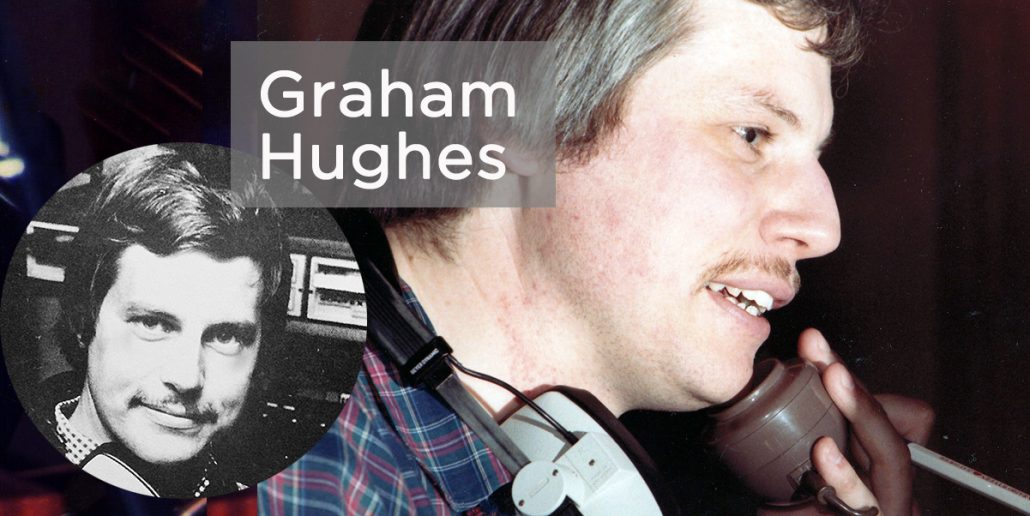 Graham Hughes – Launch Presenter/Producer – Weekdays 1-4pm and specialist music Monday – Wednesday 7- 8pm.
If you've worked in broadcasting in the last few years you've probably missed out on a great event – opening a new radio station. Radio Wyvern was my second of four "new" stations in my career but my first as a full-time presenter. My first memory though is of the tremendous team spirit getting the station on the air. We did everything – even the gardening one day when our first Managing Director John Manley led us out to start a few hours of graft. Well, we did want a smart looking radio station.
One amazing piece of foresight from the original management team was to have the broadcast and sales teams to work a full two months before the launch date. Yes, there was the studio and legal training but also promotions to do and we were all learning to work as a Wyvern team. Success for one was a success for all. There were also the detailed chats with Programme Controller Mike Henfield on what was going into our shows. For morning presenter Roy Leonard and for myself, presenting afternoons, that meant sorting out guests and various speech elements.The commercial radio network then was overseen by the Independent Broadcasting Authority and that meant fifty percent of our daytime output was speech in some form.  I used to cringe at the amazingly successful "Swap Shop" phone-in only to find myself presenting a peak hour, ratings winning  "Trader Time" in Canada on CKRW Radio in recent years. Yes listeners love contacting their local radio stations. Again and again the training and experience we gained at Wyvern was to help us over later parts of our careers.
In present-day radio stations, computers rule the roost with play-out systems for everything from music to commercials – not so in the 1980s. All the commercials were on cartridges and the music on vinyl. When it came to the original rock shows it was my own vinyl collection that kept us going until we built up our own record library. Most of the original station library had been donated by station director Muff Murfin, a record producer.
Many memories of the Wyvern years include meeting listeners at anything from village fetes, sports events and our station sponsored " Rock Band Battle" with head judge Roy Wood.  We even had a Wyvern football team to play at Kidderminster Harriers and of course there was terrific Wyvern support for Hereford United v Arsenal in the FA Cup. We had a go at jalopy racing but I think it was only Roy Leonard who mastered that one. I survived a charity parachute jump with the Parachute Regiment in Aldershot and nearly didn't during an interview in Ross On Wye. The plan was to interview the steeple-jack who was carrying out repairs at the top of the famous spire. I wrongly assumed that there would be climbing clips for use on the temporary ladder to the top.There was just a very, very long ladder. I nervously made the ascent holding on way too tightly and soon became exhausted, to say the least. I was never so glad to finish an interview even if the view across south Herefordshire was amazing. Meanwhile, I had noticed that the Reverend Ray Howard Jones, Wyvern's religious producer, who'd decided he wanted to come along and visit Ross Church had disappeared out of view. When I eventually got down I asked him where he had gone. Ray admitted that it looked as if I was going to fall and that he had gone way to pray for me…….
By the beginning of 1985, it was all change. News Editor David Holdsworth and I were by then presenting a fast-paced news and music show drivetime show. It was a change of direction in many ways, not just into broadcast journalism. Within months I had joined the BBC and that's even longer story. But without the amazing time at Radio Wyvern that career wouldn't have happened.
https://mywyvernstory.co.uk/wp-content/uploads/2013/12/graham-hughes-radio-wyvern.jpg
602
1201
sammy
https://mywyvernstory.co.uk/wp-content/uploads/2017/09/wyvern-story-logo-orig.jpg
sammy
2017-09-17 15:20:53
2017-09-28 21:21:54
Graham Hughes Radio Wyvern