Mike Henfield Radio Wyvern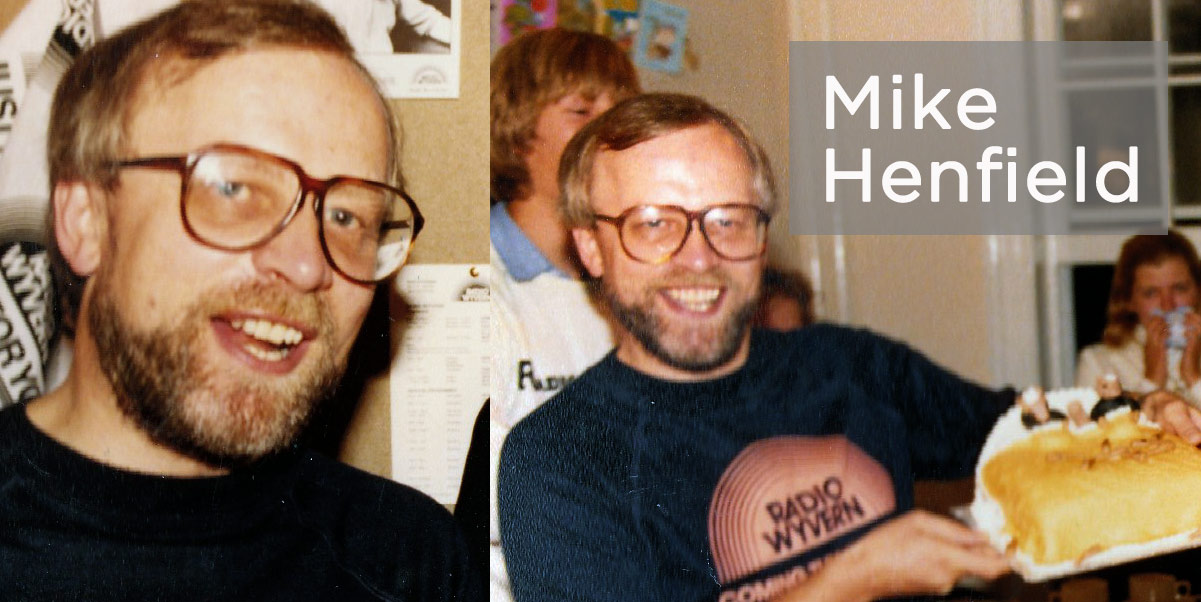 I have a couple of memories from the time before we went on air.
I was born in Worcestershire so getting the job at Wyvern was like coming home. But in 1982 Wyvern must have been the only radio station in Britain with a gazebo and fish pond in the back garden and an extensive, manicured lawn out the front. The imposing building had been the HQ of the local education authority and now it was taking on a new life
The first problem was that once through the impressive front door, the rest of place was a frenetic building site, where workmen were battling against the clock to get the station ready for launch date. It was a listed building – so we immediately ran into problems with the planning people. At one time they even complained that our new windows were a couple of millimetres too wide.
I had to hit the ground running to find radio presenters, a news editor, and all the experts who'd be offering advice to listeners –  from the vet to the solicitor.
Just to make things a bit more difficult, our managing director had agreed to let ITV make a fly-on-the-wall documentary on the launching of a radio station. The camera crew had permission to film anything they wanted – even down to the sacking of one hapless young chap who was fired even before we went on air.
But eventually, we had a schedule. Training sessions for all staff went on while builders were working around them. The run-up to that first breakfast show in October 1982 was nerve-wracking: would everything work, was our music mix right for the area, what about competitions?
I had devised our first on-air competition. We had hidden a unique Royal Worcester plate, especially made for us,  at a secret location within the transmission area, with clues being given each day. It generated a big response – not all of it good. A pub landlord phoned and told us a treasure-seeker, convinced it was somewhere in his hostelry, had disturbed his wife in her bed..and several people angrily complained that their gardens were being dug up by complete strangers. It made headlines, though, and won us, listeners…
Great days, lots of fun, plenty of headaches…but that's radio for you.
Before Wyvern went on the air we discovered there was some strong opposition from local residents in the Barbourne area of Worcester. A rumour had gone round that we were going to have a massive mast on top of the Georgian building in Barbourne Terrace and the "radio signals" were going to turn their TV screens into blizzards of static. One lady even questioned whether her pet parrot would be affected. A delegation was sent round the area to assure everyone that the transmitter mast was some miles away – and there were no recorded incidents of parrots being in danger from the sounds of the 80s.
But the opposition continued after we'd gone on air. Local councillors were enraged when we announced in the press that we were producing a documentary feature to be called "Sex, Drugs and Rock 'n' Roll". This was a serious look at how youngsters at two very different schools – the private fee-paying King's in Worcester and a local comprehensive – viewed these three issues. Despite protests, the documentary was aired and well-received by our listeners. But opposition continued. One very senior councillor said he was disgusted. Asked if he'd actually listened to the feature, he replied "Of course not..I wouldn't listen to something like that." It's worth noting that the producer Frazer Sheppard went on to become a senior television executive, producing many TV documentaries.
And not long after going on air, four of the Wyvern team found themselves in jail !
We were challenged by inmates at a jail in Gloucestershire to take on their debating team: the subject was "This house believes in the restoration of capital punishment"
As the prisoners couldn't come to us, we went to them. Instead of the old lags we'd expected, we found their team was composed mainly of very skilled fraudsters, forgers, and other white collar criminals. So was the audience – because this was an open prison.
We chose to oppose the return of the death penalty. But the prisoners, to our surprise, were all for it.  We were heavily defeated as the audience voted almost unanimously to bring back the rope.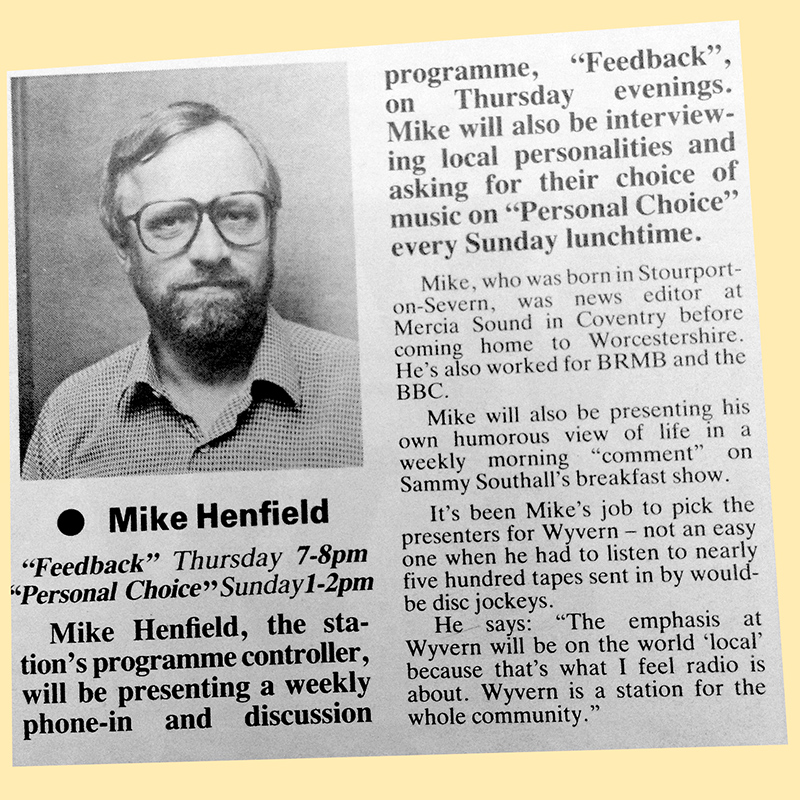 https://mywyvernstory.co.uk/wp-content/uploads/2017/09/mike-henfield-2.jpg
602
1201
sammy
https://mywyvernstory.co.uk/wp-content/uploads/2017/09/wyvern-story-logo-orig.jpg
sammy
2017-09-17 15:18:31
2017-10-02 12:41:04
Mike Henfield Radio Wyvern