Roy Leonard – Radio Wyvern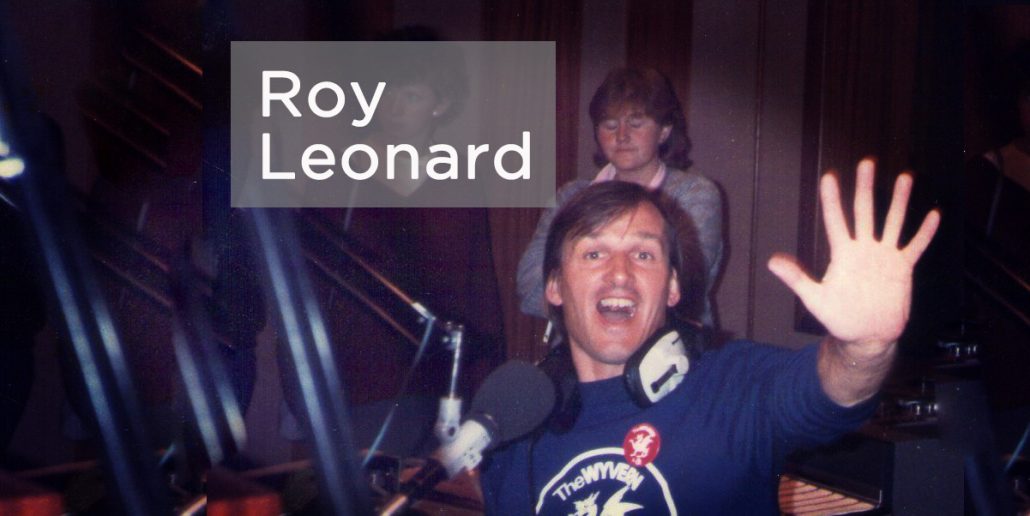 Back in 1982 I was working as a freelance presenter and reporter for another commercial radio station, Chiltern Radio, in my home county of Bedfordshire. At the time I'd been looking for a full-time position in broadcasting and therefore responded to an advertisement for Radio Wyvern. I was invited for an interview at the Talbot Inn in Worcester and a few weeks later was delighted to hear that I'd been successful.
The main presentation team, Sammy Southall, Mike George, Graham Hughes and myself, gathered a few months before opening in order to get to know each other and find out more about the area that we'd be broadcasting to. Our Programme Controller, Mike Henfield, decided I'd present the daily mid-morning show which would have a mixture of music and live guests, a format that I was quite familiar with. However, it could also have its pitfalls. For example, I remember that myself and fellow contributors, Jeff Roberts in particular, were prone to what is known as "corpsing", in other words getting a fit of the giggles. Jeff's biggest problem seemed to materialise when he was reading the racing results. There was something about the names of certain horses which seemed to trigger all sorts of strange ideas in his head and away he'd go. I also remember one occasion, with a regular female contributor from the Milk Marketing Board, whose name I sadly forget, who used to provide cooking tips. We were approaching Christmas and she'd come to talk about traditional Yuletide fayre, and we got onto the subject of roast chestnuts. Without thinking, she asked me if I ever sat in front of the fire roasting my nuts and I'm afraid the naughtier side of my character took over and I was absolutely helpless for the next few minutes. Cue record!
Talking of which, in those days our music was provided by vinyl disc – yes it really was that long ago – and the layout of our broadcasting desk meant we had a turntable on either side. My guests always used to sit to my left and that could lead to mishaps. For example, one lady that I was due to interview arrived with a rather large handbag and as I got up to shake her hand, she promptly placed the bag right on top of the record that was playing. Cue horrible scraping sounds!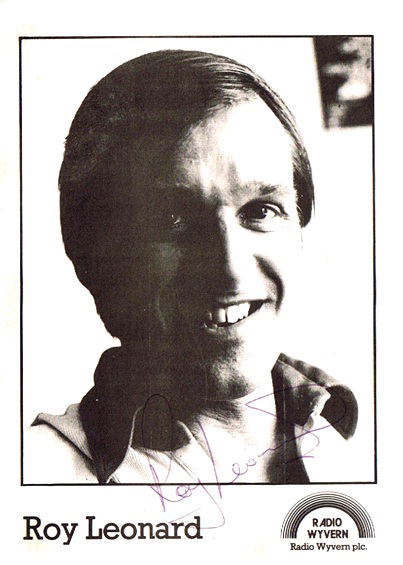 Thankfully such incidents were fairly uncommon and my abiding memories of my days at Barbourne Terrace are very pleasant ones. In particular, we had a marvellous relationship with our listeners, many of whom phoned in on a regular basis. One, who we lovingly referred to as Wyvern Mo, was also a highly perceptive lady. Shortly before going on air one day I had a slight altercation with our then boss, Norman Bilton, but being the "professional broadcaster" that I thought I was, it was a case of the show must go on and I presented my usual happy persona to the world. At least I thought that was the case, however about 30 minutes into the programme a light appeared on my switchboard and there was Mo, who immediately asked: "What's wrong with you this morning?" Somehow she'd spotted something in my voice and she knew that Roy Leonard wasn't quite the happy bunny he was pretending to be. Which just goes to prove you can't fool most of the people any of the time, especially if they're Wyvern listeners!
Without doubt, my favourite part of any broadcasting week was Saturday mornings when I used to do a Location Quiz as part of my breakfast show. During the week I'd try to find a host of different facts about a local place of interest, turn them into cryptic clues and the listener had to guess where it was. Apparently, it was quite a hit and I can remember one chap telling me, he and his wife, spent most Saturday mornings sitting in their bed with guide books, tourist leaflets, reference books and maps were strewn across it, trying to figure out just how the Leonard mind was working that week. For my part, I used to love leading callers on, making them think they'd come up with the right solution, before letting them down with a bang. Yes, that evil streak kept coming to the fore!
One of the other delightful things about being a radio presenter is that you get invited to do all sorts of interesting things. I particularly remember one Friday evening when I was asked to present the annual prizes to a ladies darts league in Herefordshire. I was quite surprised to find that many of the ladies were quite young and attractive and they also came from a wide range of backgrounds. There was even one, I was told, who had her own indoor swimming pool, and that after the night's festivities a group of them would be going there for a spot of "skinny dipping", and that I was more than welcome to join them. An invitation I sadly had to decline because I had to be back in the studio bright and early on the Saturday morning to present the Breakfast Show. Who says broadcasting is a glamorous life?
Sadly, like all good things, my time at Wyvern came to an end, and I moved on to pastures new. My first stop was Stoke-on-Trent, then it was Stockton-on-Tees, followed by Newcastle-upon-Tyne and then Kingston-upon-Hull – I've obviously got something about towns and cities next to rivers or hyphenated place names! Anyway, after those it was a complete change of scenery because I joined the BBC, where I eventually went back to news presentation and reporting. I'm now happily retired and living in Hartlepool, but I'll never forget those happy times talking to the wonderful people of Hereford & Worcester. Thanks, Wyvern.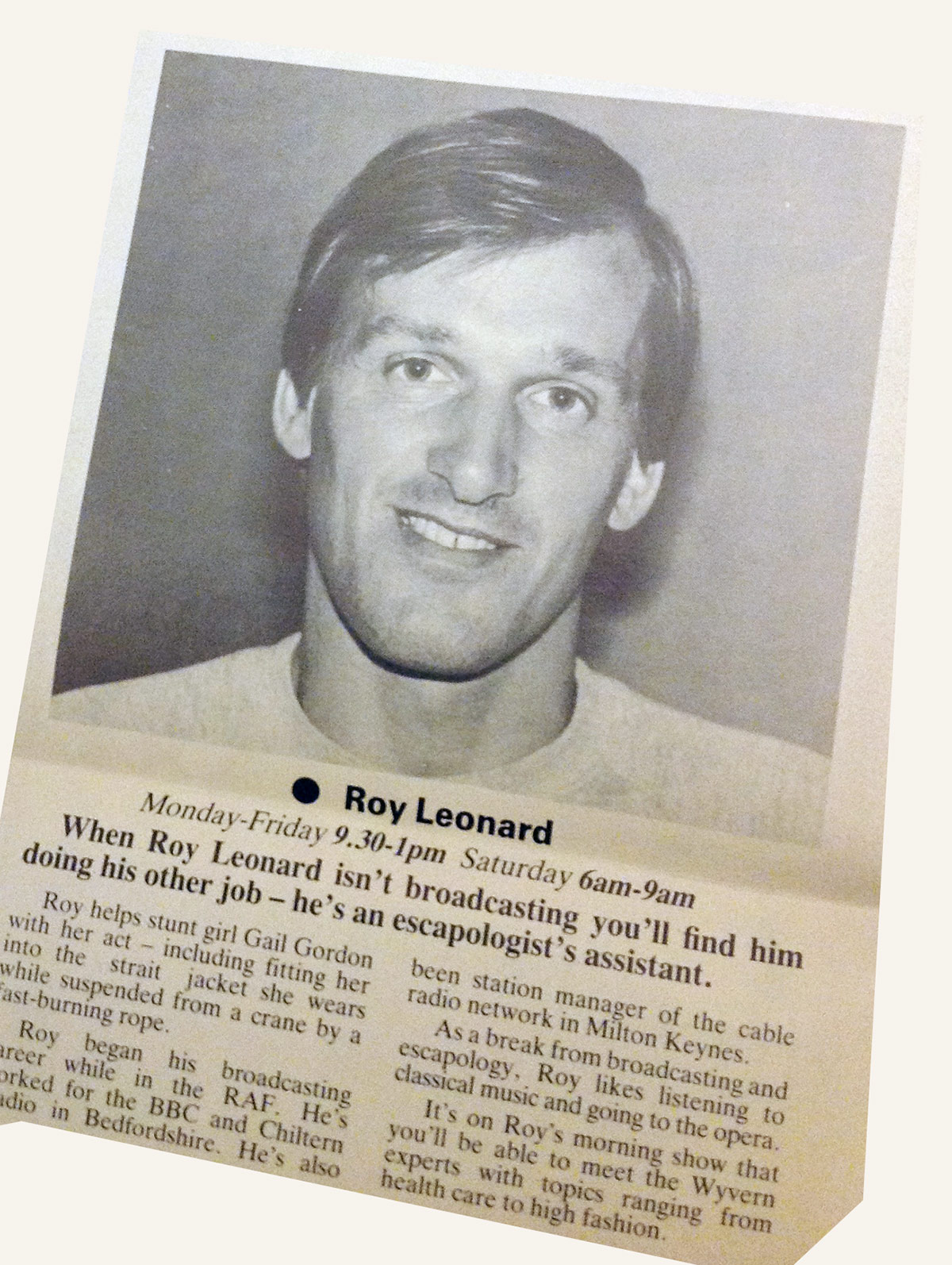 https://mywyvernstory.co.uk/wp-content/uploads/2017/09/roy-leonard-radio-wyvern.jpg
602
1201
sammy
https://mywyvernstory.co.uk/wp-content/uploads/2017/09/wyvern-story-logo-orig.jpg
sammy
2017-09-17 15:21:31
2017-10-03 20:28:30
Roy Leonard – Radio Wyvern