The Birth of Radio Wyvern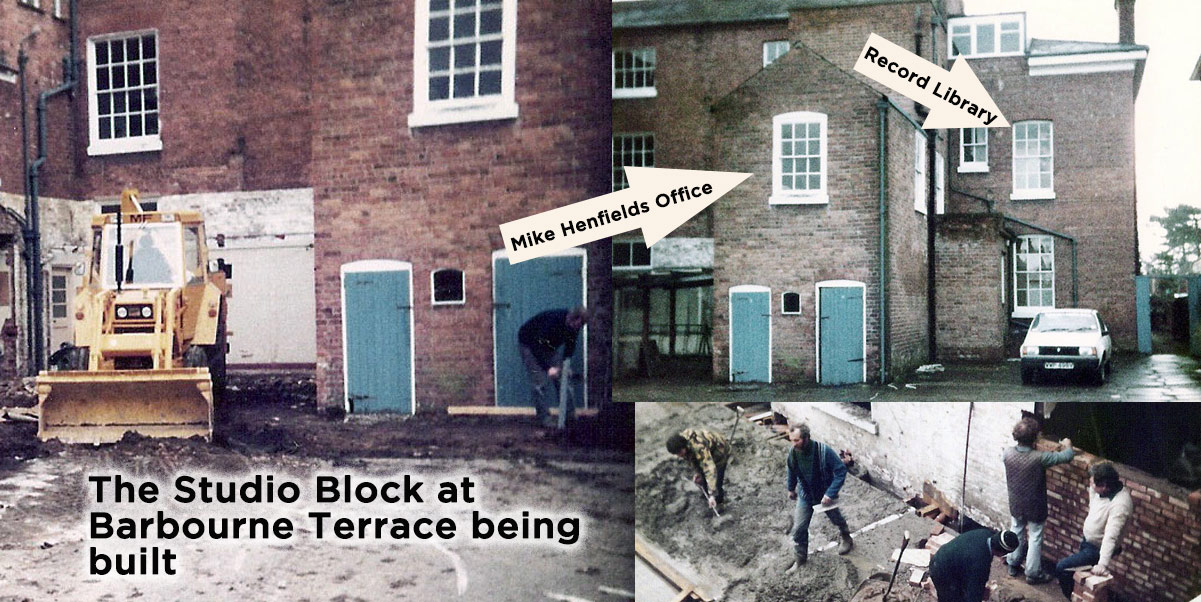 Technical Director and Presenter Rob Yarnold, and Breakfast Presenter Sammy Southall have been talking with Producer/Presenter Graham Hughes, about what led to an amazing day – the birth of Radio Wyvern.
The radio station's large reception area was big enough to host a party and at 7 am on that magic Monday of 4th October 1982 it was buzzing.The area's great and good, company directors and staff were all there to witness the birth of a new radio station. Well everyone who should have been there had turned up – except for the person who had thought the whole idea up. He'd overslept.
A few feet away though, the countdown and five weeks of test transmissions were over. At 7 o'clock Sammy Southall launched Radio Wyvern with a song that summed the thoughts of many of the people involved in the project over a period of years – The Monkees' "Daydream Believer". Sammy was putting on a brave face. He had two audiences to think about, the one across Herefordshire and Worcestershire tuning in on radios, and the other through a window with dozens of faces staring down from reception area window across a corridor and into the main on-air studio.
Radio Wyvern was on the air but it had been a long time coming. Rob Yarnold was the man who had got the ball running many years before, and such was his passion for getting a local radio station on the air he could have been arrested.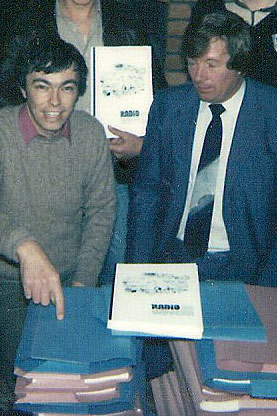 Rob Yarnold's undoing could have been his love of radio. He'd been inspired by the offshore pirate stations of the sixties. "Radio England 227" had been reborn in Worcestershire – very illegally, in the early 1970s. You would not think Tenbury Broadheath as being at the centre of a media revolution, nor piracy for that matter, but on Sunday mornings from 9 until noon a version of Radio England could be heard again. An illegal transmitter on 227 metres (using an 807 valve) made by Rob, and three C60 cassettes was all that was needed. All went well until Post Office investigators showed up one Sunday. Rob was lucky not to be caught but at least things got serious from this point.
Birmingham's BRMB Radio came on the air in spring 1974 but a station for Herefordshire and Worcestershire was still a long way off, delayed in part by the Annan Committee report on the future of broadcasting and, of course, the newly joined County of Hereford and Worcester.
Rob's dream station had started life as "Severn Valley Radio" (guess who was also a steam railway fan!) with the original idea for a Worcester only service but after local MP Peter Walker had successfully campaigned for the joint county it was realised that the only viable option was to cover the much larger area. Surprisingly the Independent Broadcasting Authority had originally only wanted a medium wave only service for Worcestershire.
Soon, Rob was campaigning for a station for both sides of the Malverns with support and lobbying from local businesses. There was an extra knock on – what should the proposed station be called?  Using the two main rivers, the Wye and the Severn as inspiration Rob merged them into Wyvern.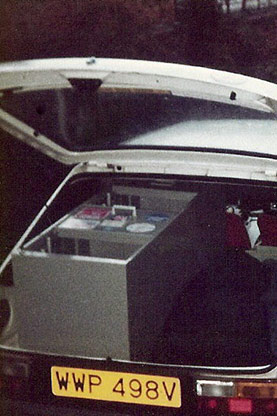 It wasn't plain sailing. Despite all the hard work it was a big shock to find another company putting in a bid for the advertised franchise. Hereford and Worcester Broadcasting were proposing "to offer a programme schedule which has a greater appeal than just to a teenage record buyer. We don't intend to adopt a rigid stereotyped playlist but a free-flowing melange of good music. Our aim is to make it professional". "A Bull in a China Shop" was to be HWB's rock show.
Radio Wyvern told the IBA that the area "…had never been well endowed with a single, indigenous, communication medium, the enthusiasm for local radio is unmistakable and impressive". The main application detailed at considerable length what Wyvern's approach to ILR would be  "….entertaining, stimulating, newsy and sympathetic to the many different segments of the community who, we hope, will look at Radio Wyvern as their voice, their friend and counsellor".
Wyvern had also learned from Gloucestershire's Severn Sound, which had opened in 1980 and soon found that a recession and high unemployment did not help advertising revenue.
So after the boards of HWB, and Radio Wyvern, led by its chairman Sir John Cotterell, headed off to IBA interviews in London followed by a public meeting and another grilling in Herefordshire it was down to a long wait before the broadcast regulator made its decision. In August 1981 Wyvern had won the IBA franchise.
Rob Yarnold, became Technical Director with the job of building the station. He remembers the following year was a dream come true with the hiring of Managing Director John Manley, Programme Controller Mike Henfield, Sales Controller Chris Scott, News Editor David Holdsworth and accountant Robin Pritchard. Pre-launch technical help came from the likes of studio designer Eddie Veale, and studio desk builders MBI, headed by Mel Bowden and its chairman Michael Fabricant.
The presenters and news team arrived on the scene only two months before launch. Sammy Southall was a Worcestershire lad and was both breakfast presenter and head of music, Roy Leonard joined from Chiltern Radio to host mornings, Ross-on-Wye based journalist and presenter Graham Hughes, who had also campaigned for a station for the area, hosted the afternoon show and three evening rock shows, Mike George formerly in the Royal Navy and Portsmouth's Radio Victory presented drive, while Jeff Roberts was the cover presenter and production.
So back to the 4th October 1982 – the final piece of pre-launch music in run up to 7 o'clock was Elgar. But Sammy Southall, shortly before, was so nervous he had to be walked around the car park with moral support from John Hellings and a couple of glasses of Bucks Fizz. "Not the best of ideas" Sammy recalls but minutes later he was back in the studio "This was one of the most exciting things I had ever done in my life, it was the thing I'd most wanted to do in my life." Sammy's words were the thoughts of all the Wyvern launch team.
Mike Henfield, Wyvern's Programme Controller, was sitting in the next studio keeping an eye and ear open on the opening show. As any live broadcaster will tell the clock on the wall is a continuous reminder there's always a deadline ticking towards you. At this point, though it was all down to Sammy Southall: "I managed to deliver my well-practised opening lines without fluffing them – the relief was enormous. I remember relaxing a bit more after my first link which had a bit of a stumble in it and once I had got past that I could start to enjoy myself a little. Nerves started hitting hard again when I went into the news and the local news for the first time at 8 o'clock and shortly after I had to do a live link up with Les Ross at BRMB, a long time hero. He was generous I had no need to worry and once that was over I could finally relax. Then I began to enjoy the experience of creating my first live show on the air. I remember enjoying that show so much, a mixture of pure adrenaline and euphoria".
In retrospect, It was Roy Leonard who had, perhaps, the easiest show of the day. At 9.30 he took over the reigns until 1 pm with specialist guests and music. The pressure was off.
Graham Hughes recalls his first record as the Beach Boys "Good Vibrations", guests included Dr Feelgood and a scoop interview with the Archbishop of Canterbury thanks to religious producer Ray Howard Jones.
But it was Mike George who was to have the last laugh. His drive time show was to feature live on Central ITV's news show as well. It was his second appearance on ITV in days! Meanwhile, Graham Hughes was waiting for his second show of the day at 7 pm, managed to get his breakfast at 4.30pm.
Radio Wyvern was on the air and the audience was loving it. But who had overslept and missed the launch? Rob Yarnold, of course, after a decade and more of hard work of getting the radio station on the air he had been recording commercials until 2 am that morning and missed the start of his own dream or was it a nightmare? Rob got to the launch party at 7.20am only to find the legal logging/recording tapes weren't working – another IBA crime!!
https://mywyvernstory.co.uk/wp-content/uploads/2017/09/birth-of-radio-wyvern.jpg
602
1201
sammy
https://mywyvernstory.co.uk/wp-content/uploads/2017/09/wyvern-story-logo-orig.jpg
sammy
2017-09-28 21:14:58
2017-09-28 23:18:41
The Birth of Radio Wyvern