Wyvern News This Is Howard Hughes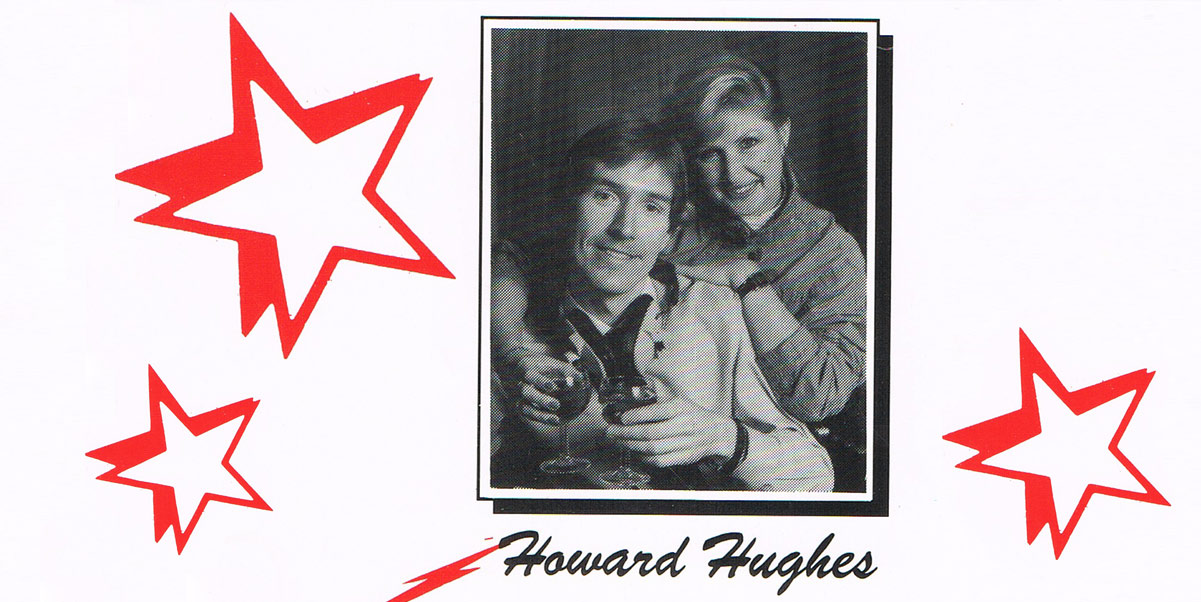 Like many of the best things in life I came to Wyvern by accident and chance.   I'd returned from pirate Radio Nova in Ireland and had tried to push for a community station for Southport – which it eventually got in the 1990s.   The government went cold on the idea of uber-local radio in the late 80s – so the summer of 1986 saw me leave my Merseyside home and start work at Barbourne Terrace.  It turned out to be life-changing.    I arrived in my old VW Beetle with a sleeping bag, a knife, fork, plate spoon and a radio. Thanks to Dave Aston – who was leaving – recommending a good letting agent I found a tiny apartment at the top of the Terrace.
I began by working six or seven days a week on news and shows.  And I learned – fast – on the job.   I didn't know it then – but the phrase "Wyvern News this is Howard Hughes" got written into the station's history.    We had no resources and a news staff of two – working 5 days and alternate Saturdays.  We actually covered a murder trial at Hereford Crown Court using a CB radio bought from Tandy – one of the team on the steps of the Court relayed the verdict to the other (me) at the Hereford Studio – a closet at the town's theatre.  We beat the BBC and other broadcasters to get the news on air – with the help  of an estate agent opposite who let us use a phone (remember this was pre-mobile phone – really!)     Later we took on Rupert Bell – fresh from the army – a charming man with connections to the Royal Family who quickly became a friend.  Rupert is now one of the nation's leading sports broadcasters.      I was noted for working all the time and taking what I did quite seriously.   So when I took a week off to stay with my parents in Formby, Rupert called me to say a colleague had "eaten too many sandwiches from Lilly B's (excellent) sandwich shop", he'd taken ill and I had to return immediately.  I actually believed it – but thankfully Rupert revealed the truth as I was getting ready to head back to Worcester.   I had a spell on the Breakfast Show – the truth was I had not had enough life experience to take that on.  It is obvious to me now – but wasn't then. I had much to do, see and learn before I could credibly take to the air.   So I took over the afternoon show – including an experiment splitting the Hereford and Worcester transmitters (Studio 1 going to Hereford with Johnny Lewis, Studio 2 going to Worcester with me)….  Unlike radio today we could try things out and experiment.  The result on air was usually relevant and fun.   I left at Christmas 1987 – and said a very sad goodbye to Norman, Stephanie, Sam and the team…and I locked the door on my lovely top floor rented "apartment" in  Cowleigh Road, Malvern for the last time – or so I thought.
I started 1988 at County Sound in Guildford.   I liked the MD Mike Powell and the PD Paul Owens a lot –  and County Sound was like a big, slick  London station but for Surrey and Hampshire.   Mike and Paul remain friends.   But I missed Worcestershire and Herefordshire.  So when Norman phoned me to say he was " a man down"   I returned in June to become News Editor with a team that included Jane Garvey.  I started the second spell by presenting breakfast and covering the Three Counties Show – that included a balloon flight with the Mitsubishi Ballooning Team high above the Malverns – at one point we almost touched the spine of the hills – and then floated off again.  It was all lovely.  But in those days I had perpetually itchy feet. I was offered two jobs – at GWR Bath and Ocean Sound in Portsmouth/Southampton.   I left after six months to go to Hampshire.  No regrets about that.   I had great experiences, launched the first fast "FM style" news service in the UK – on Power FM."   And I met a woman who became a friend, guide and rock of my life for almost a decade.    I was on my way in life.    A bit late but all the better for it.   I quickly headed to BRMB – to do breakfast news (living back in Worcestershire).    Within months I was headhunted to be a newsreader/news writer at IRN/LBC.  That job brought me to London – and meant my network bulletins were heard on Wyvern.  So I was still at the station. When I left LBC/IRN to launch BBC Berkshire Norman faxed me with a lovely letter headed "Black Friday."   The rest is history – ten years with Chris Tarrant on Capital – LBC with Nick Ferrari, talkSPORT, BBC Berkshire again, BFBS,  BBC Three Counties,  CityTalk, talkRADIO and a long spell of being a "go to" voiceover man for ITV entertainment shows – like the British Comedy Awards where I spoke – live – to 13 million people!    Wyvern laid the foundations for all of this.
I regard Norman Bilton as a pioneer.  Some saw him as a misguided maverick.  That's not fair.   I will always see him as an innovator, a man who totally understood what real people wanted to hear.  He could be tough.  He could be extraordinarily kind.   I believe he deserved to be up there with Richard Park, Ralph Bernard and the other big names of radio management.  News of his death was a tremendous shock.   For so many of us, he was – and will remain – unique and special.  I will forever see him at the gates of 5/6, Barbourne Terrace arriving for work in his beloved Ford Capri uttering his famous catchphrase "cheers now." ( Here Here Howard – SS)
Here is some more great audio from Howard with thanks again to aircheckdownloads.com
https://mywyvernstory.co.uk/wp-content/uploads/2017/09/howard-hughes-001-1.jpg
602
1201
sammy
https://mywyvernstory.co.uk/wp-content/uploads/2017/09/wyvern-story-logo-orig.jpg
sammy
2017-09-19 13:52:33
2017-09-28 22:03:41
Wyvern News This Is Howard Hughes