Trevor Owens Wyvern Presenter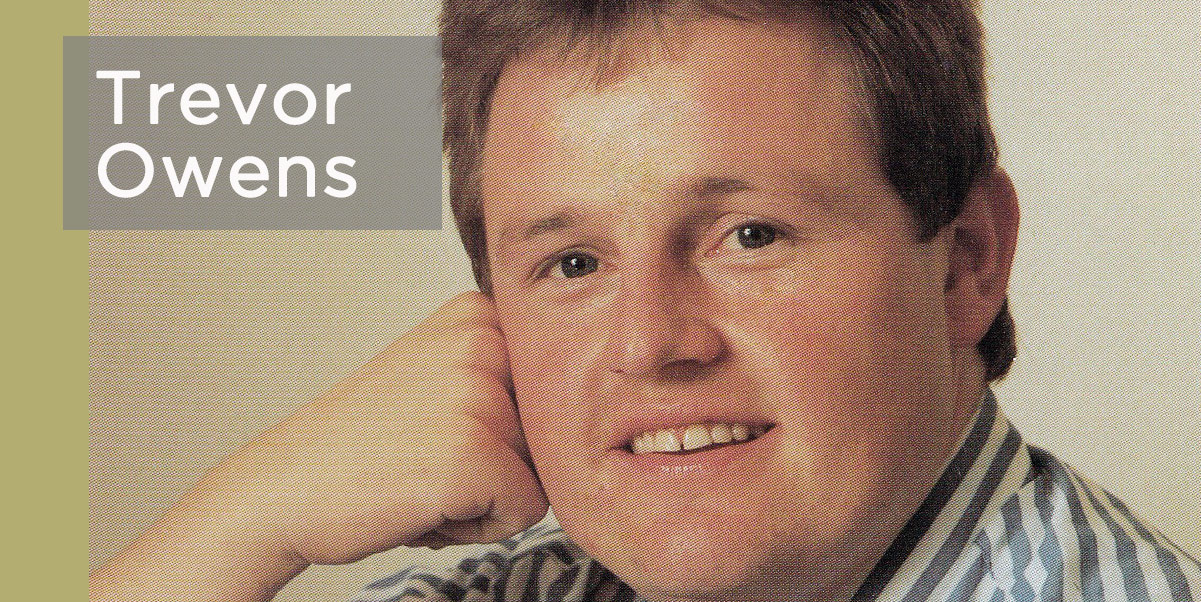 I joined Wyvern in February 1991 – and ended up doing my first-ever show by accident. I was working behind the scenes with 'Big' Rich Edwards on the sports show when he took the call that Simon Forster was ill and unable to do the late show. 'If you fancy it, it's yours," said Rich.  So, at 10.03pm that night with minimal training and prep, and nobody else in the building to help me, I did my first programme.
Yes, that is right – nobody else in the building.  Allan Clarke finished his excellent 'Best of America' programme and casually asked: 'Are you ok to go into the news as I have to be back in to do breakfast tomorrow morning and I live in Birmingham…'. With that, he was gone and I was left in charge of the entire output.
It was to prove quite a baptism of fire – there was a power cut at quarter-to-one and the entire station went off air, as well as most of Barbourne.  But I got through until 1.00am when I handed to BRMB and nobody died.  I can't have made that much of a pig's ear of things because Sam called me at home on the Monday and said: 'Well done on Saturday night; if you fancy the Saturday and Sunday shows from here on, they are yours.'
So began a three-and-a-half-year relationship with the station that I have always regarded as being my 'University education' in terms of radio. Wyvern was a true independent – you could end up doing any show at almost no notice, or find yourself reading news bulletins and delivering 'Snowball' collection jars across previously unknown parts of Herefordshire.   When two presenters upset 'The Boss' mid-show, I ended up taking over the afternoon programme at around 3.10pm.  That must have been odd for the listener as one presenter went into the track and a different one back-anno'd it. It would have been even more odd if they had known said presenters'  punishment for the error of their ways was to be sent to catch fish from the pond by the front door with their bare hands and then take them up to the boss' office in a bucket. Life at Barbourne Terrace was never dull.  There were some great characters there at the time and I had a blast, as well as learning a lot about the trade.  Whether it was Charlie Power's
There were some great characters there at the time and I had a blast, as well as learning a lot about the trade.  Whether it was Charlie Power's laid back approach to show prep – 'Give us a copy of The Sun' or the late, great Dave Cartwright's memorable Christmas Eve show in around 1992 when the only person more pissed than him was his guest who was some random stranger he'd met outside the last of the dozen pubs he'd been in across the day.  It was the only time I ever listened to the Folk Show in its entirety.
Yes, there was always the danger of the dreaded 'Ex-D' light going in the studio if 'The Boss' didn't appreciate your most recent link, but you learned to deal with it.  As Jason Harrold so memorably advised me about both the management and the audience: 'The worst they can do is say you're crap, they can't get you pregnant'.  Thanks, Jase, as that has been pretty much my outlook on both management and the audience for the ensuing 26 years.
I did the late show, afternoons, lunchtime and breakfast – including the first-ever breakfast programme exclusively for Herefordshire while Sam and then Craig Beck did one for Worcestershire.  Russ Lowe, Vicky Breakwell and I ran the Hereford 'operation' from a tiny office on Broad Street in Hereford.  Now, our Hereford office at BBC Hereford and Worcester looks directly out on that building. It could be said I have gone full circle.
A move to the Wyvern newsroom gave me the grounding to get into the BBC and for that I shall be ever grateful. So many went out of their way to help a total novice get their head around aspects of the industry. In particular, to Chris Farrell, who helped me make a demo that earned me a foot through the door and to Sammy and 'The Boss' for taking a punt on a farmer's son from mid-Wales with no broadcasting experience at all.  I joined BBC Radio Solent in April 1994 after more than three years at Wyvern.  As 'the boss' said at my leaving 'do' in reception, "I don't know how you have survived this long; most only do three months'.  It was a great three years and certainly set me up for the subsequent challenges as well as giving me a host of friends, many of whom I am still in touch with today.
Oh, and that bloody Jailbreak then followed me across the Severn to BBC Hereford and Worcester, while I still have the occasional nightmare of the intercom going and a disembodied voice saying: 'Trevor… in Pres, sir!'  If you worked at Wyvern in the Norman Bilton era, you will remember sentences starting that way…
https://mywyvernstory.co.uk/wp-content/uploads/2017/09/trevor-owens.jpg
602
1201
sammy
https://mywyvernstory.co.uk/wp-content/uploads/2017/09/wyvern-story-logo-orig.jpg
sammy
2017-09-28 23:15:49
2017-09-28 23:19:12
Trevor Owens Wyvern Presenter