Matt Healey Wyvern Perdiswell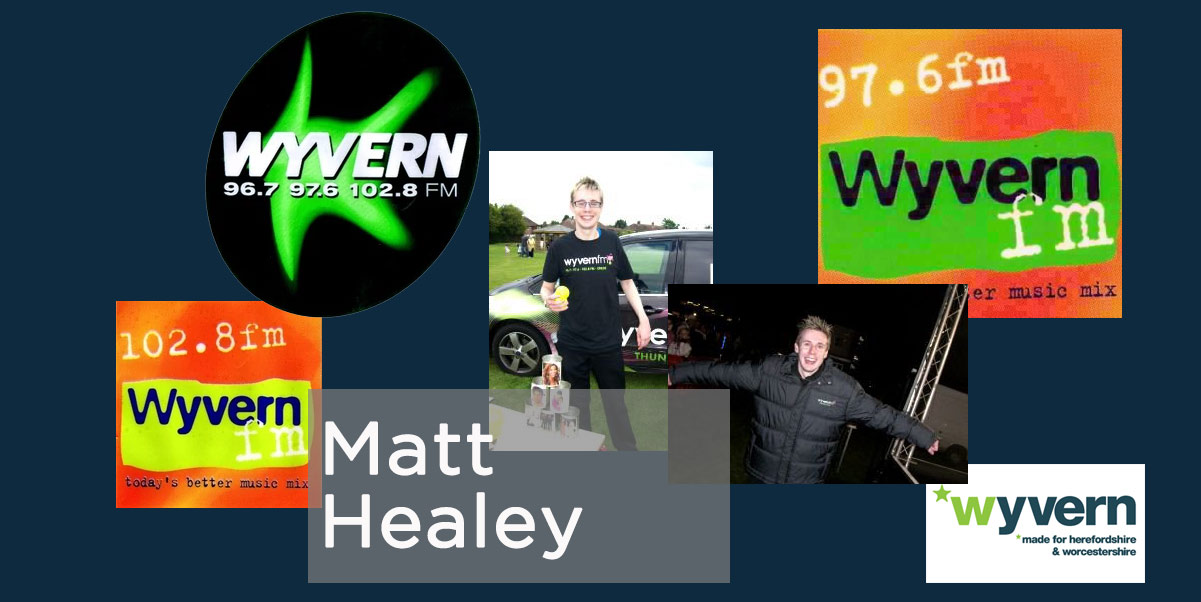 I grew up listening to Radio Wyvern but didn't really take much interest in it until 1996. I tuned into the Chris Blumer evening show one night and I was hooked. It made me so interested in radio and I applied to join my local hospital radio station. I always wanted to work at Wyvern and finally made it in 2007 as a Black Thunder. Wyvern had just moved into the brand new studios in Perdiswell, and I was hugely impressed with the setup. In my first
I tuned into the Chris Blumer evening show one night and I was hooked. It made me so interested in radio and I applied to join my local hospital radio station. I always wanted to work at Wyvern and finally made it in 2007 as a Black Thunder. Wyvern had just moved into the brand new studios in Perdiswell, and I was hugely impressed with the setup. In my first spell, I only stayed for 6 months as went to pastures new, but returned a year later and stayed for five more years.
I had many highlights at the station. I loved working my hometown events in Hereford, and the Race For Life's were always well attended. I have fond memories as well of working charity events at St George's Lane the then home of Worcester City, I remember being thrown in at the deep end at the 2008 Santathon and having to present the whole event as the presenter had been struck down with flu. I was only meant to be handing out stickers, but it proved the old adage of "Being in the right place at the right time", and I subsequently grew in confidence and became one of the main Black Thunder/Street Star presenters for the station's outside events when the regular on-air presenter was away.
I never made it on air though at Wyvern, I do have a slight regret I didn't push myself as much as I could have done and had my own show, but then I would have missed out on working with an amazing team, Naomi Boast, Kelly Page, Dan Lewis, Jim Kerwood, to name but a few were excellent colleagues and a pleasure to work with.
https://mywyvernstory.co.uk/wp-content/uploads/2017/10/matt-healey-wyvern-perdiswell.jpg
602
1201
sammy
https://mywyvernstory.co.uk/wp-content/uploads/2017/09/wyvern-story-logo-orig.jpg
sammy
2017-10-02 09:09:12
2017-10-02 09:09:50
Matt Healey Wyvern Perdiswell