Dean Roberts Radio Wyvern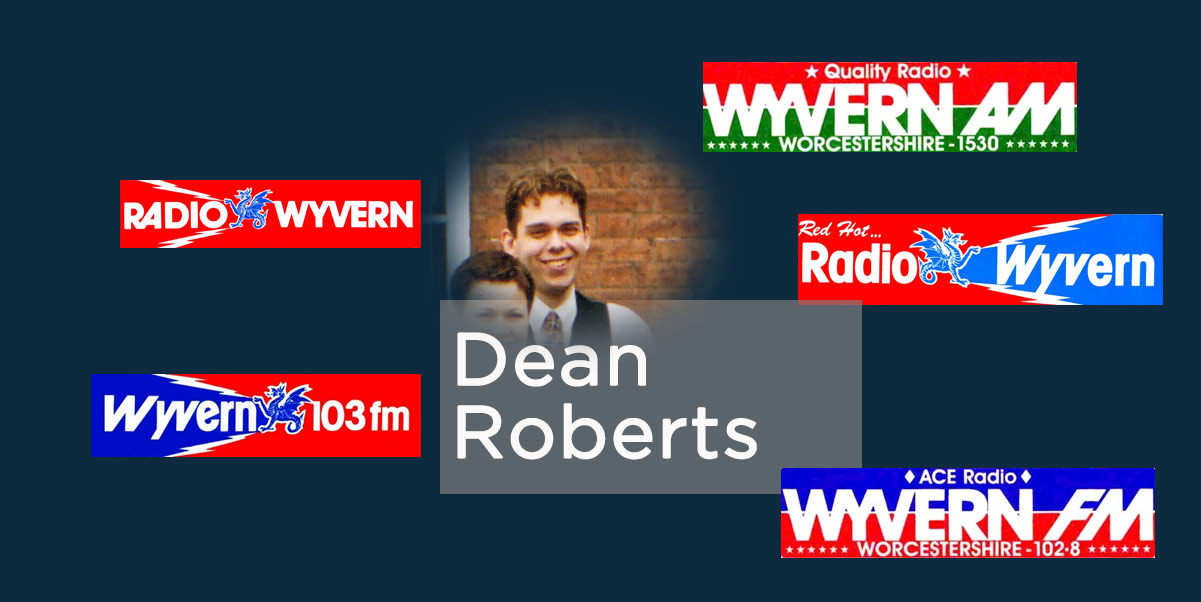 Dean Roberts – Radio Wyvern/Wyvern FM (Barbourne) 1996-2002
Where do I start with my Wyvern Story? Well, I was always told that the 'beginning' is rather a good place to begin so let's crack on.
I can remember listening to Radio Wyvern waaaay back in the early 80's as a kid (especially when there was the risk of snow) praying that my school of Pitmaston and subsequently Christopher Whitehead would be shut – my parents would also make sure that Radio Wyvern was switched on on the morning of January 20th as they'd always call in to get me and my friend Chris a birthday mention. I loved radio…even as a precocious little kid I always wanted to know how the voices came out of them! I was always making my own mix-tapes, recording myself introducing songs and making tapes for myself. When I moved to America with my parents in 1992 I created a "radio station" for two little boys I used to babysit for – we'd record ourselves introducing songs, we'd create our own radio jingles and adverts and create a 45 minute long tape for their mother to listen to in the car on the way to work. Silly stuff, but great fun!
Fast forward to one summer morning in 1996 after moving back to Blighty, and my mother burst into my bedroom with the radio on saying "listen to this – what song is it from?" – it was a competition that was running on Russ Lowe's "Rhythm Driven Breakfast Show" called "Name The Baby" where he played the word 'baby' from a well-known song. I sleepily listened and nonchalantly said to Mum that it was Lisa Stansfield's "All Around The World". A few minutes later she came back into my room with the cordless phone and gave it to me…she'd dialled 612212 and on the other end was a man's voice saying "name the baby Dean!" – she'd dialled Wyvern and before I knew it I was talking to Russ…and I'd won! My prize…an East 17 "Deep" CD single.
It turned out that Russ Lowe's sister was a good friend of one of my friends and (to cut a long story short) she said I could go and pick the CD up from Russ at the station and sit in the studio. I can remember walking up the pathway to 5 Barbourne Terrace, looking at this massive old house and being amazed that what came out of my radio came out of this old, imposing building. To walk through the tiled entrance lobby, through a coded door and being taken into the FM studio (one of three lovingly tagged onto back of the building) was like going through the wardrobe into Narnia…it was a whole new world! I can still remember walking into the corridor, through the door opposite the newsroom that led to Wyvern AM and FM and the middle studio, and smelling the lingering smell of a cigar – hearing Wyvern FM coming out of a tiny speaker up on a shelf in the corridor and seeing an old branded caravan sat outside the window. I sat in the FM studio for the last hour of Russ's breakfast show and I was in awe, watching him lining up cd's to play, playing out jingles and ads on a cart-rack and watching red and green lights blinking on and off as people called in.
After picking up my prize, Russ gave me a few scripts to read in the middle studio – I was sat in there for ages talking into the mic and reading some old ads and news scripts and I was loving it! Unbeknownst to me Russ was listening in the other studio with his producer Chris and a man I instantly recognised as being 'the' Sammy Southall. Afterwards I was taken upstairs to meet Sammy. Walking up the stairs past a room that was for "the accountant" up to the first floor I was brought into an office that led off from a huge upstairs room with a tatty green leather sofa in it. Sammy was sat behind his desk (that was covered in cassette tapes) smoking a cigar. "Hi guy!" he said – "Have you ever wanted to work in radio?". I immediately said yes and he said to me… "Great – get a CV to me in 24 hours…and get a haircut!". I did both and I was allowed to come and work at Wyvern as a gopher (my first job was to count sticker backs) and to help out with promotions. Over the course of a few weeks of helping out here and there and shifting boxes and cataloguing CDs for "The Boss" (instructions handed down by his wife Steph – never directly!) Sammy showed me how a studio desk worked and let me have a go. "Record yourself guy – learn what the faders do – have some fun with it!"…I never could have dreamed what would happen next!
We were heading up to the Three Counties Show, Sammy told me that we had to be big and loud and "cool" because BBC Hereford & Worcester were broadcasting live from there. After handing out stickers and Wyvern 'bugs' at the Three Counties Show for a day and a half Sammy asked me to look after the music they were playing out on the Wyvern FM stage and to link the songs together by telling people who we were over the mic. I did as I was told and at the end of the show as we were packing up he said "So guy…do you think you could do a radio show?" – I was being cocky and said "Yes, of course I could!" – he then said to me "Good…because you're on-air tomorrow from 7pm until midnight…don't f**k it up!"
Scared? Oh my God yes! It was singlehandedly the scariest thing I have ever done – broadcasting to Herefordshire and Worcestershire, on my own! (ok – admittedly I wasn't alone for the first 2 hours…Tracey Cooper sat with me to make sure I was alright and didn't take the station off-air, but even so!!). I loved it…I was hooked…it was the biggest thrill ever to say something into a microphone, in a dimly lit studio in the middle of an old Victorian building, in my hometown, on my local radio station, on both Wyvern FM and Wyvern AM and to see phone lines light up as people reacted. I must have sounded 'ok' because after my show the presenter who was following me said "Well, you didn't f**k up or take us off-air and you finished on time which isn't bad I suppose, I just hope you've left me some audience – now let me show you how it's done properly!" – Mike Ryder…always a charmer!
There are so many fabulous memories linked to Wyvern. I moved on from presenting to go and work in the newsroom with Tracy Cooper and Rachel Green – broadcasting from the meat-fridge and using awful typewriters that had letters missing. I can remember one summer day that I came out of a news bulletin to find that Steph had nailed all the windows shut because "Boss" had walked passed and saw a window ajar and nobody in the newsroom – "Boss says that security is paramount and the nails will only come out once you've learned that!". That was the hottest summer I can remember…but it didn't stop us from carrying on smoking in there. That meat-fridge was a work of art! I especially remember the day that it was painted bright red with a metallic gloss…and the fumes from it nearly made me pass out while reading a mid-morning bulletin (how I managed to do the 15-second headline tease before IRN kicked in and sit in there for 3 minutes, slowing asphyxiating and getting high off the fumes is beyond me!). I can also remember hosting the bonfire and fireworks at Pitchcroft with Tony Peters one year and looking over at the Swan Theatre and seeing scores of people watching the bonfire being lit, they'd obviously not paid to come in – as soon as the bonfire was lit a plume of smoke headed for them and they ran from the smoke… I said on the mic "That'll teach you for being so cheap and not coming in to watch it with the rest of us!" – Literally, thousands and thousands of people who were stood in front of us let out an enormous cheer and as we carried on talking we had to remind them that the fire was fully lit and the fireworks were starting…I  realised then that Wyvern was as much a draw for some of those people as the fireworks were!
At Wyvern I worked with people who had something that is sadly missing from local radio these days – passion! A passion to entertain, to succeed, to be inventive and creative, to go to the Nth degree to make something work, to help colleagues, to do as we were told without question, to make great great radio that everyone wanted to listen to. The Wyvern Snowball appeals – the auction – the challenges the presenters undertook to help raise money for the Snowball appeals (reception becoming a factory line of people as a mountain of Christmas cards needed putting into boxes so they could be sold) – being part of Sammy, Russ and Sheldon creating a charity record (which, ironically, was no 'Walk In The Park' – see link below!). I can remember the station being filled with old wooded radios too and being gifted one by "Boss" when he finally left the station (alongside, inexplicably, a pair of cowboy boots from him which I STILL have, and a Polish Beatles wooden wall hanging?!).
I moved on from Wyvern in the year 2000 after doing practically every job there was to do there (Evening Presenter, Journalist, Head of News, Breakfast Show Presenter, Online Content Manager, Brand Controller, Concert Organiser, Sales Exec) in a short period of time. Although I've moved on to work at stations like Trent FM, Leicester Sound, BRMB, Free Radio and BBC WM, it is still Radio Wyvern that makes me smile the most. In an alternate reality the station never became part of GWR, never moved out of Barbourne Terrace and never stopped being the voice of Herefordshire and Worcestershire…it's still the bedrock of the two counties.
Radio Wyvern was a fantastic place. 21 years in radio (and 2017 my last year in the industry) and my Wyvern Years remain some of my all-time favourites! The radio shows that came out of it were works of art. The presenters were forces of nature. The people that made it happen behind the scenes were saints. Radio Wyvern is a part of who I am (for better or for worse) and the people that made it are the people that inspired me.
Sammy, Russ, Chris Smith, Big Rich Edwards, Simon Forster, Nicky James, Tony Peters, Tracey, Rachel, Steph, Norman "Boss" Bilton, Mike Morgan, the wonderful Paul Linscott, Mike Ryder, Rachel Addison, Wendy and Nikki on reception…the list goes on!!
Happy Birthday Wyvern – and to the man that took a punt on me, Sammy, you are and will always be – a legend!
https://mywyvernstory.co.uk/wp-content/uploads/2017/10/dean-roberts-radio-wyvern.jpg
602
1201
sammy
https://mywyvernstory.co.uk/wp-content/uploads/2017/09/wyvern-story-logo-orig.jpg
sammy
2017-10-02 11:48:46
2018-05-24 05:58:38
Dean Roberts Radio Wyvern