The Pre On-Air Radio Wyvern Story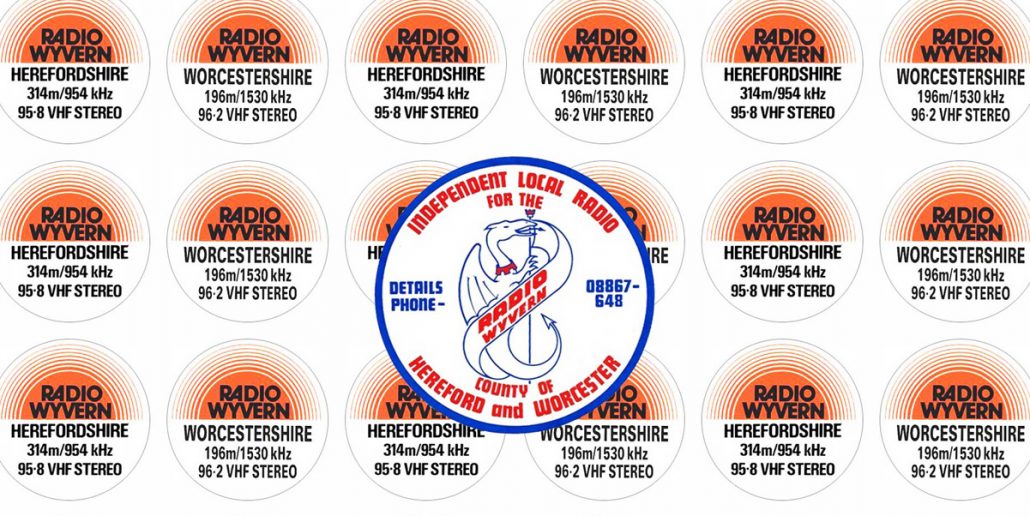 More thoughts from Rob Yarnold about the early months of Radio Wyvern
As there was no one really on board, from the industry before we got the franchise, I had to get all the info together for the Board to understand. I took The Chairman and a few Board members to Beacon a few times to talk to Peter Tomlinson, the new MD, and Alan Henn (Chairman) from the Express and Star. (And visit BRMB) They could not understand how the IBA and broadcast industry worked at that time, and it was one hell of an effort to get my own way… they all knew best… they didn't. History proved that when the station nearly folded after only 18 months on air. The Board had to have their own way in the end, not listen to "farmers son country boy Rob," and employed far too many "professional" people to "show Rob the way," on inflated salaries.
Before the franchise was advertised I had visited almost all existing English ILR stations to get first-hand information on staffing levels and costs, advertising revenue expectations, and the cost of getting on air within the IBA codes of practice.
Without exception, all stations offered invaluable information, some confidential, from their MD's and in some cases their Chairman. Sammy Southall went to Radio Trent with me and my accountant, where Dennis Maitland, (ex-Big L sales) offered to write the application for a 15% holding, we declined the offer!!
With all this information, I was always at odds with the board over staffing and salary levels. They put my salary in at 4k more than my own suggested level, which meant most other staffers were well up too, because they believed there would be considerably more income/revenue than my projections…. QED not!
However, with all this did come some great times. I met lots if interesting people got loads of support from all levels of business, the public, the press, and local Government. I would do it all over again, if you believe in your dream, follow it.
At the same time as gathering all the information needed to get the ball rolling, I was contacting local businesses and all the different local Councils for what had now become one County. I got various promises of investment and almost total support, just a few cynical comments I recall, but I ignored that. I discovered that Muff Murfin (now Sunshine owner) had registered an interest in local radio for Worcester, so decided to get him on board with my plans for a County wide station, which could generate more income without more investment and little extra cost. He joined, I'm pleased to say, and we remain good friends to this day.
 When the IBA advertised the application we split it all up for various members of the board to organise "their bits". My responsibility was the technical/studio section where I had to specify all equipment etc. etc. Being an engineer, working at Beacon, and visiting many stations to view their equipment, I found it quite easy. Obviously, I had help from the Chief Engineer at Beacon where I was still working free-lance, and Andy Gemmell-Smith (Andy Anderson on air) who now owns Alice Soundtech. I'd been down with Andy to Radio 210 in Reading for a few days, where he was fitting out a new studio. A lot of fun and some great memories, I learned a lot of Andy, not least his liking for a McDonalds Big Mac, which he introduced me to! Well, it was only 1980….
At that time, each and every member of the Board had a responsibility to raise as much investment as we could. Initially, it was on a 2 for one basis, buy 2 shares and I loan account (minimum investment £525; £350 shares and £175 loan account). In 1984, due to rising losses, and an insolvency problem, the loan account was converted to shares, to make the balance sheet look considerably better!
Following many conversations with the IBA during the application process, and two formal interviews with the full Board, I'll NEVER forget the weekend of my life…. It was a sweltering hot July Friday afternoon, the call came through, if we offer the franchise will you accept it? Ummm, Yes!! Right, but we are not going to announce the winner of the Franchise until Monday; they embargoed it!! It was such a feeling I just had to celebrate without telling anyone why I was so happy, and I did not. I called a party at my house for the Saturday night, all friends I could think of were invited, the party ran through the night, into the Sunday where many of us ended up at The Bridge Hotel, Stanford Bridge, (pub) for Sunday afternoon in the summer sun and river Teme. The landlord of the pub had been a big supporter of the proposed radio station and I felt it appropriate to continue our party down there…. Still keeping my secret. The relief, and hangover that came on that Monday morning was immense, followed by a visit from my father. A farmer, who'd heard that his son had been partying all weekend, and came to find out what was going on! As it was Monday, with the embargo lifted, I told him what we were celebrating and it would soon be time to get his chequebook out for shares.
 Having nearly raised the £500,000 we needed it was my job to get on and build the station. We'd bought Barbourne Terrace, I'd calmed down a number of owners in the street who were not too keen on having a radio station next door, and even got one of them to invest! I was the first employee of the new PLC and commenced my employment on Monday, January 4th, 1982. I delivered my own filing cabinet to my new office, as it was full of everything I'd worked on for the past 7 years. It was a short first week as I couldn't get in from my home on Tenbury Broadheath because of snow, gales and the worst drifts for many years.
We were inundated with job applications once we got the franchise, well ahead of advertising a single appointment. The Board had appointed John Manley who was then the Sales Director at Mercia Sound (Coventry) and previously ATV (Television) in Birmingham. He started in February 1982, picked his office, and worked most of the time from my already established office, where I was planning the station. I had employed a jobbing builder (Fred), for all internal modifications, IS plumbing and heating to fix the system, and we appointed a larger company, Thomas Broad Ltd. from Malvern, for the studio; a new construction between two wings of the existing building. This was based on 3 quotes from Eddie Veale's specification, for the studios, I'd designed as a new build in the space available.
 The MD John Manley, made his first appointment, the Sales Director Chris Scott? who subsequently appointed his sales team with MD approval.  Both John and I were present at many of the job interviews for numerous posts, which was very interesting. The News Editor, David Holdsworth, (Worcester Evening News Editor, now head of BBC Midlands) and Mike Henfield were Board appointments where we were all present when selected/approved. As we had 100's of applications for every job, each head of department then chose their staff, with the MD's approval. I had one engineer Bob, who didn't make the grade, so I appointed two junior trainee engineers. It was a good decision, they were good guys, Andy and Chris. Most posts were staggered from appointment to within 1 – 2 months before going on air, except sales who came on a little sooner, for obvious reasons.
 As John had worked at ATV (now Central TV) he had many contacts, even Lew Grade became a shareholder  (ACC investments), and we organised a documentary for the planned October 4th launch. The documentary, "something in the air" was broadcast a few days before going on air, but we were well into test broadcasting. The documentary included some footage about a pirate radio station I'd been running. Although a "spoof" for ATV news to avoid "a "conspiracy charge" of support for something illegal, it was broadcast on October 4th 1976, 6 years to the day of Wyvern's launch! As well as the documentary we had a newspaper for our launch, distributed to every home in the County, and I'll never forget the 3 Counties Show 1982! I had to drive to Brighton to pick up a complete MBI radio broadcast mixing desk, with cart machines, tape decks etc. etc. This was an analogue age, no computers, no CD's. It all weighed a ton and I really hurt my back carrying the heavy equipment. It had been used for a television programme, never networked, called Radio Phoenix. Local to Brighton and only lasted one series on their regional TV network. But, it did give us a really professional look at the 3C's ready for our launch just over 2 months later.
https://mywyvernstory.co.uk/wp-content/uploads/2017/09/pre-on-air-001.jpg
602
1201
sammy
https://mywyvernstory.co.uk/wp-content/uploads/2017/09/wyvern-story-logo-orig.jpg
sammy
2017-09-17 15:26:24
2017-09-17 15:28:16
The Pre On-Air Radio Wyvern Story