Phill Bird Wyvern Cheltenham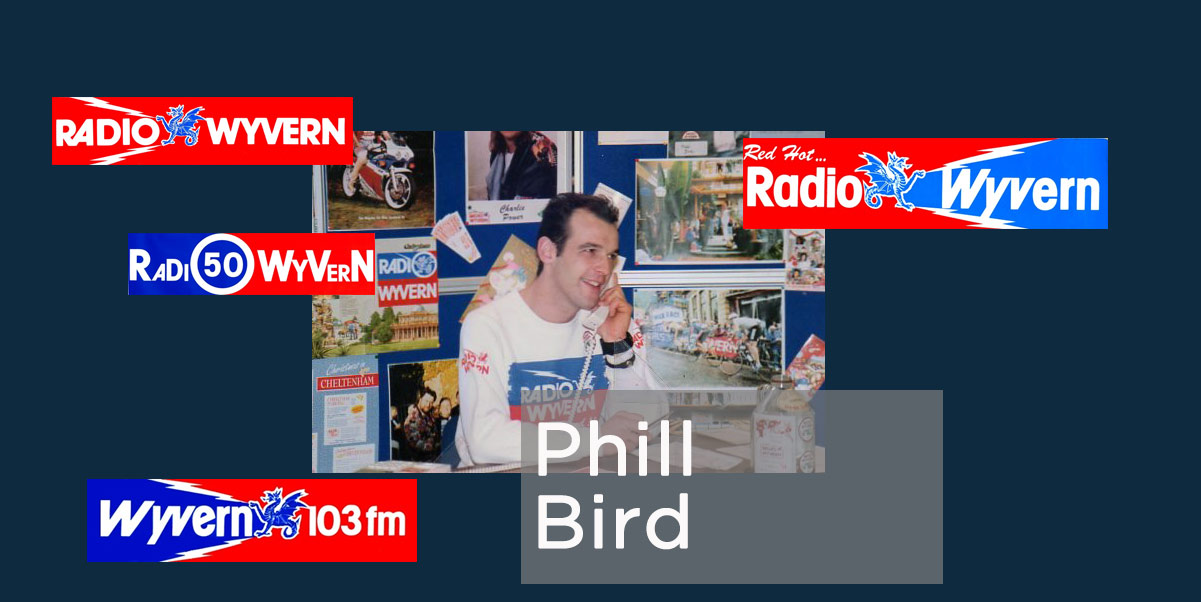 Wyvern Memories from Phill Bird  – Presenter/Promotions Executive  June 1991 – July 1995
Growing up on a diet of Radio 1, the exciting launches of Severn Sound, and then Wyvern, I felt a real pull to radio – particularly ILR.  I joined Cotswold Hospital Radio in 1983 and 2 years later was lucky enough to be accepted onto the last Programming Foundation Course at the IBA's National Broadcasting School in Soho (thanks to a 60% grant from Gloucestershire County Council).  Our Principal was the late Michael Bukht and Head of Programming was the late John Russell; and his (juxtaposed) bow tie!  Between them they crafted us in the art of radio and encouraged us to hone our own personality, and drove into us the importance of getting the 1 to 1 bit right (seems sadly lacking nowadays).   Industry names that passed through the doors of 14, Greek Street included Fiona Phillips, Rob Gallagher, Michael Wakelin, Jeremy Vine, Cornelius Lysaght, Johnathan Pearce, Russ Williams, Gavin Ford (whose family had a mention on the very 1st Wyvern Breakfast show), Martha Kearney etc etc. – and then there was me….
My 1st radio gig was at (pirate) Contact 94 broadcasting from above a nightclub in rural Normandy to the Channel Islands. We used to tape the Radio 1 Top 40 to be able to put chart stuff on air – if  Mark Goodier had spoken over the intro then listeners on Jersey would hear an abridged version on Contact 94!   I remember driving to Cherbourg to collect the ads from Customs to play out later that day. They would only deal with me if I struggled to speak in French.  We used to do some of our links bilingually – which was fine until 'the suits' (on Jersey!) changed the studio clock to C.I. time.  It's one thing reading the time in French; though converting it into French was another thing! Getting to know French music was great too.
When I returned to the UK in Spring 1991 I sent some demo tapes off.   One was to a Stephanie Denham at nearby Radio Wyvern. Living temporarily with my parents in Cheltenham, my mum answered the (landline) phone one late afternoon.  "It's Sammy Southall from Radio Wyvern" – she called into the kitchen.  My heart raced and no doubt my voice went up an octave!   "Hi it's Phill Bird" – "Hey guy….  come up and have a chat in Worcester someday".    Wow, was this really happening . . . .     Sam and I subsequently had a few meets, I did a bit of studio stuff and I was booked to do a late show one Monday end of June (and, if all was well, possibly the next day too).   Yawning on the Tuesday, in my temping job in Cheltenham, I finished early to drive back up to Worcester to go through the log tape with Sam.  Listening, link by link, I found myself cringing and thought 'that was it' – though Sam thankfully saw some potential; and, as he pointed out, I was more relaxed once left alone in the studio, come 10.30pm.
Those two nights turned into 4 delightful years of weekend late shows (some up to 7 hours long!) ; with some odd overnights chucked into the mix.  It was interesting how the dynamic of an overnight changed if I had slept immediately before the show or gone in straight after 'the day job'.  Apart from C94 (where we did all shifts) I had only done shows (and still do) at the end of the working day!  I was told in those days "any more laid back and you'll be horizontal!"    In 1991 we used to take BRMB overnight though had become 24/7 by the time I left in July 1995 – Tracey Cooper taking over on my last handover.
Some fabulous memories; and sad ones too…
I was on-air the night Freddie Mercury passed away November 1991. No TVs in studios in those days and I had a listener phone in at 00.15 to say "Mercury had gone" – they'd seen it on Sky. (At first I thought they meant Radio Mercury as an Irish station had gone down recently!)  Alone in the Station I couldn't just announce it on the air, without checking, so I found the number to IRN in London who confirmed the sad news.  I played "I wanna break free" as I relayed the information on-air.  I had a listener ring up in tears pleading for me to play Bohemian Rhapsody which I (reluctantly) did pre 1 a.m..  (I didn't like playing stuff that was played to death if you'll pardon the pun).  Then Stuart Ellis rang on XD from BRMB to check he wasn't duplicating any songs in his first links – as the overnighter did every night. Stuart had wanted to start with B.R. though he agreed to put it back to the end of the first hour; of his 5 hour shift. (Not sure how he'd heard the news by then – as IRN didn't cover it until the 1 o'clock bulletin?).
I broke down on the M5 one autumn evening on the way into the studio.  When I say I, I mean my car!   I was just near to the (then) 1st streetlamp near the M50 turn.  Ringing from an emergency roadside phone they could make one call for you.  I gave Control the XD number to the studio and asked them to call Dave Cartwright, (who was doing his rock and roll show "Rave on"), and tell him sorry but I'd be late.  It was quite bizarre standing next to your car, on the side of a roaring M5, whilst another presenter starts your show – who then proceeded to say you've had an accident!! The Recovery came and I asked them to drop me off at the nearby Strensham Services, and then take the car to their depot in Evesham (they'd only make one drop and I didn't want a dead car in Worcester at 1 a.m.).  I then scoured the petrol station at Strensham for any friendly looking people – and hitched a ride to the Studio!  I invited the couple in to look around as I took over from Dave at 10.30pm  – 90 mins after my show should have started!   As a result, Dave sadly missed a tribute gig for his friend Clifford T Ward that evening – a gig that he was meant to be performing at. Later I put out an appeal on-air for Henri from Newent to ring in (we'd become friends by now though she didn't have a phone at home) – she subsequently went down to the phonebox, rang in and I blagged a lift back to Cheltenham from her at 01.15! ( rest in peace Aitch and thanks )
And there were many, many happy memorable nights doing a gig I loved.
…The night, between tracks, that I skipped down the corridor to the loo, singing and leaping, as I smacked my head on the concrete beam above me.  Interesting that Jason might have come in the next morning to dead-air; and found me out cold on the floor!
…The Saturday night during a link, (early hours Sunday), I suddenly had talkback from the newsroom and 3 drunken Wyvern Presenters (including News) had come to say a fond 'hello'  trying to put me off!-  (bearing in mind I thought I was alone in the building!)
…The night Dave Swann rang me to tell me my record was stuck and that I ought to change it!  The 7" single was "Easy" by the Commodores and I still cringe when I hear it.  I was on the phone to another listener and missed the fact that 'Easy' was not getting anywhere near to the end!  The amount of calls I got after, exaggerating how long it had been stuck for! Listening back, it had been sticking for about 45 seconds – well c'mon which one of us would switch off during a stuck record!?  I used to spend most of my nights on the phone to listeners – there's a lot of lonely folk out there, particularly at weekends.
…The night Cheryl rang from a phone box to say hello and I was in the middle of the 'Song Search' competition.  I never used delay and always took callers live to air.  I asked her if she knew the answer and she did – and got it right.  I then played the 'prizeman jingle' and left the phone fader up (stupidly!?).   I heard her say something or other and so dipped the music and said "what was that Cheryl"?.    "Stop pissing about I'm in a phone box" she uttered to the whole of Herefordshire and Worcestershire!   Cheryl, I cried "you're live on air".  "Oh f**k off" she said, not believing me "the pips are about to go".      ….I still gave her the cinema tickets!!  omg Ofcom you didn't read that!
…The rare occasion that I was up at Wyvern during the day and met other Staff – the lovely Gill Manley from News came up to me and blurted "your cousin George works here in News too".   I said "I don't have a cousin called George"!   It turned out I did have, though didn't know it.   George and I then had our first meet in Ledbury when I picked him up in the Wyvern jeep as we rendezvoused to cover the River Wye Raft Race that year.  Since then Gill has become Mrs George Edmonds and George subsequently told me that his Grandparent's lived in Wyvern's building in Barbourne Terrace in days gone by.  How great is that!!  He's not in Broadcasting anymore though strangely his farmer-brother Will (from Rushwick) is a regular contributor to my Radio Winchcombe show nowadays – as he sells at Cheltenham Farmers' Market.  Keep it in the family, ay!
….playing Rounder's against The Bosbarians in Bosbury with the WYVN team
…judging Mo's Dog Show one evening up at Perdiswell (I don't know one end from another really!) – it was worth it for the bottles of Crippledick she gave me!
…a Charity Snowball evening up at The Ketch ..   and on
As Severn Sound had launched 3CR, (covering not only Gloucestershire but H&W too), the Boss decided 'enough was enough' and employed me to run a Promotions shop in Cheltenham (Glos.)  during the day – whilst continuing on-air from Worcester weekend nights.   I used to do 2 live links a day into Breakfast and Drive from Beechwood Place – down a phone line.  I had a desk and hoarding with Presenters' pics –  that was it.  It used to sound like I was always broadcasting from a swimming pool due to the fountains behind me!  (The freezing waters of which a team of us waded through on New Year's Day 1992 to collect the wished-coins for Wyvern's Charity Snowball!)   Whilst manning the desk I remember spying Eddie Vickers (MD Severn Sound) surreptitiously sneaking past me seeing what we were up to!   I was there to promote Wyvern in my home town ( how made up was I! )  – we even had our own number which I diverted to the studio when I was closed – 25 55 66.  Equally as catchy as 27 27 27 and almost as memorable as 612 512 ( but not the red one   …516  ssshh).  I remember one day this lady came bounding up to me as I asked her if she'd heard of us. "No, she said but I bet you've heard of my son!".   She was Cynthia, Rick Astley's mum come to visit him at Rendcomb near Cirencester.
In the January of 1992 I moved into a (contra-dealed) shop unit, in the opposite Regent Arcade, with the delightful Dawn Hempsall-Bowery employed as 'Sales' in Cheltenham and North Gloucestershire. ( I even had Alvin Stardust in there doing a link into Jason's show one morning.  Little did any of us know then that Alvin's son, Shaun Fenton, would become Headmaster of Cheltenham's Pates Grammar School some years later – a school that I had attended and also Brian Jones went there, the founder of The Rolling Stones.  Brian had also been a seasonal bus conductor in the town in the early 60s)   In the Regent Arcade,  Dawn and I both became oblivious to the tunes pumped out by Kit Williams' Wishing Fish Clock – "I'm Forever Blowing Bubbles" on the hour and "The Sun Has Got His Hat On" on the half.  Adorned with Wyvern mugs and stickers, Record Clocks and Rock T Shirts for sale I was there Tuesday to Saturday and was proud to represent Wyvern in Cheltenham; and listen all day long!   Although it must be said, I found the playlist of just 1800 tracks a bit restrictive; and I used to play what I felt was appropriate for my time of night and what listeners requested.  So much so that I was on my 7th warning from Sam by the time I left in July 1995!  ( for instance, I heard my local ice cream van playing Lili Marlene one Sunday so thought it would be nice to play it on-air that evening )  The record decks in the on-air studio had been disconnected earlier that month – no correlation   #just sayin!    And why oh why did the log tape not record the night I left . . .  hmmmm
Alone in the building all those nights I formed treasured phone-relationships with regulars.  It was only last month that Edith Cadwallader and I had our annual catch up at a pub in Fernhill Heath.  Sadly, regular phone-boxer in to shows, Aitch/Henri from Newent passed away last year and Vicky Randles from Hereford, (who became a great friend), passed in 2006.  My youngest known listeners were 11 year old Sarah Harris and her friend Krissie.  Their mums brought them into the studio a couple of Sunday early evenings during my time at Wyvern.   Sarah and I have been in touch all these years, particularly at Christmas and birthdays, though amazingly we've never met up since those days; when she was just starting at St Mary's Battenhall (where my mum went)!   We know so much about each other's lives yet from a distance . . . I suppose that's what radio is about at the end of the day.
Sorry, have I waffled?   It was Ed Douglas who said to me ( after he'd started at BBC H&W ) – "and I thought it was us who was meant to do the talking"!!  ha ha   lol  Ed  ( we wouldn't have understood that in the 90s would we!)
I had a short break for 17 years though am loving being back on-air nowadays.  Sunday nights again since 2012 – albeit with no Sammy breathing down my neck!! ( I know you had Wyvern's interest at heart SS )   I'm sure you still tune in though Sam – in case I play any Marlene Dietrich!
Happy Days – tremendously Happy!
I was there at the 10th and now contributing on the 35th.  Catch me on-air if you wish at www.radiowinchcombe.co.uk  or 107.1FM if you're a yokel ; or drop me a line at phillbirdradio@hotmail.co.uk   (double L) p.s.   …and did people really come up and sing the News Jingle to us at OBs – or was I dreaming…
Gee, we made an impact – and what a great School!    Tarra
Thanks Phill – And thank you for these great photos and news paper scans SS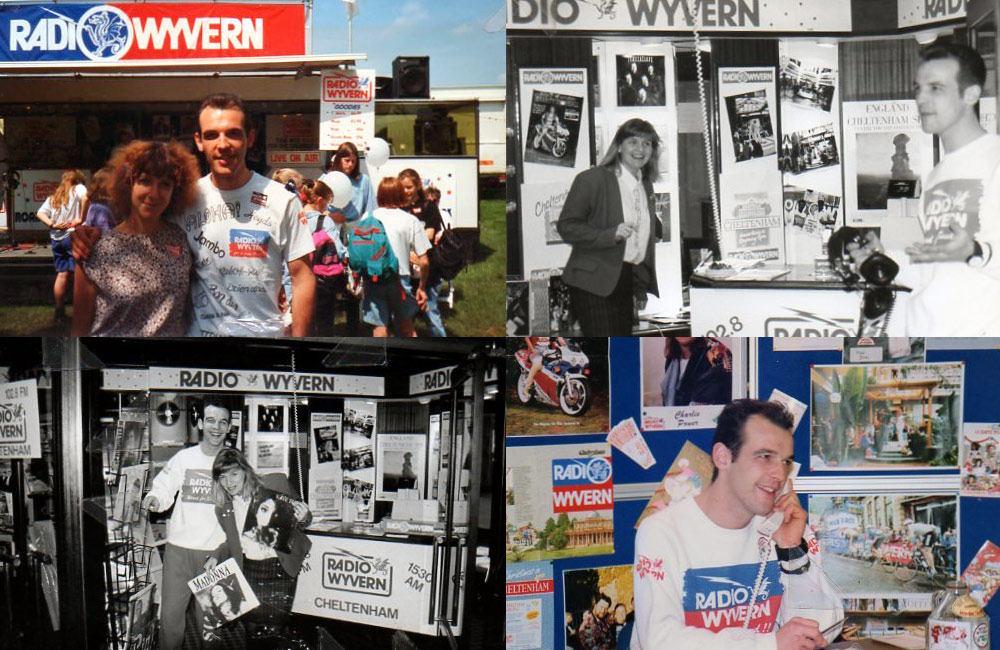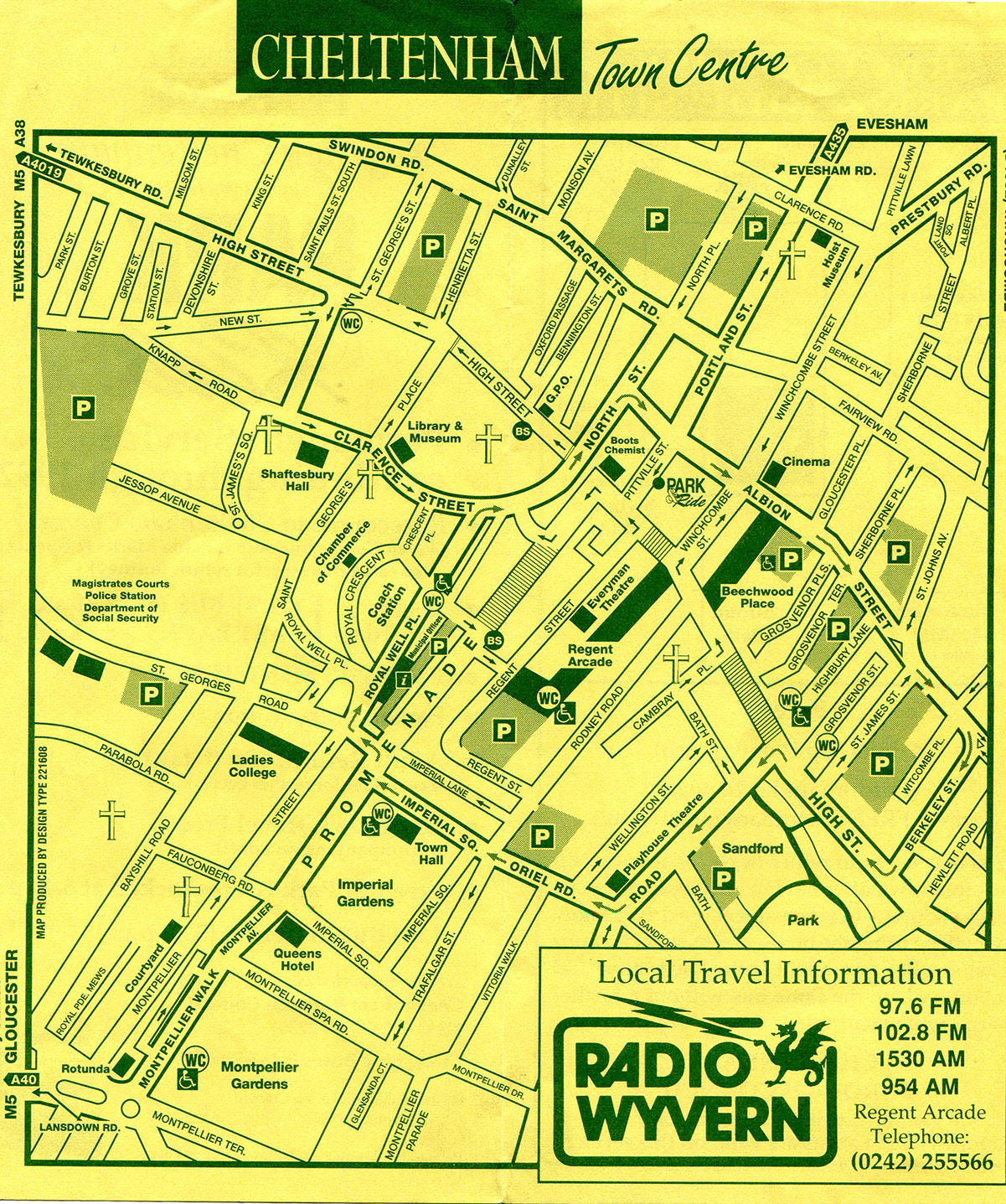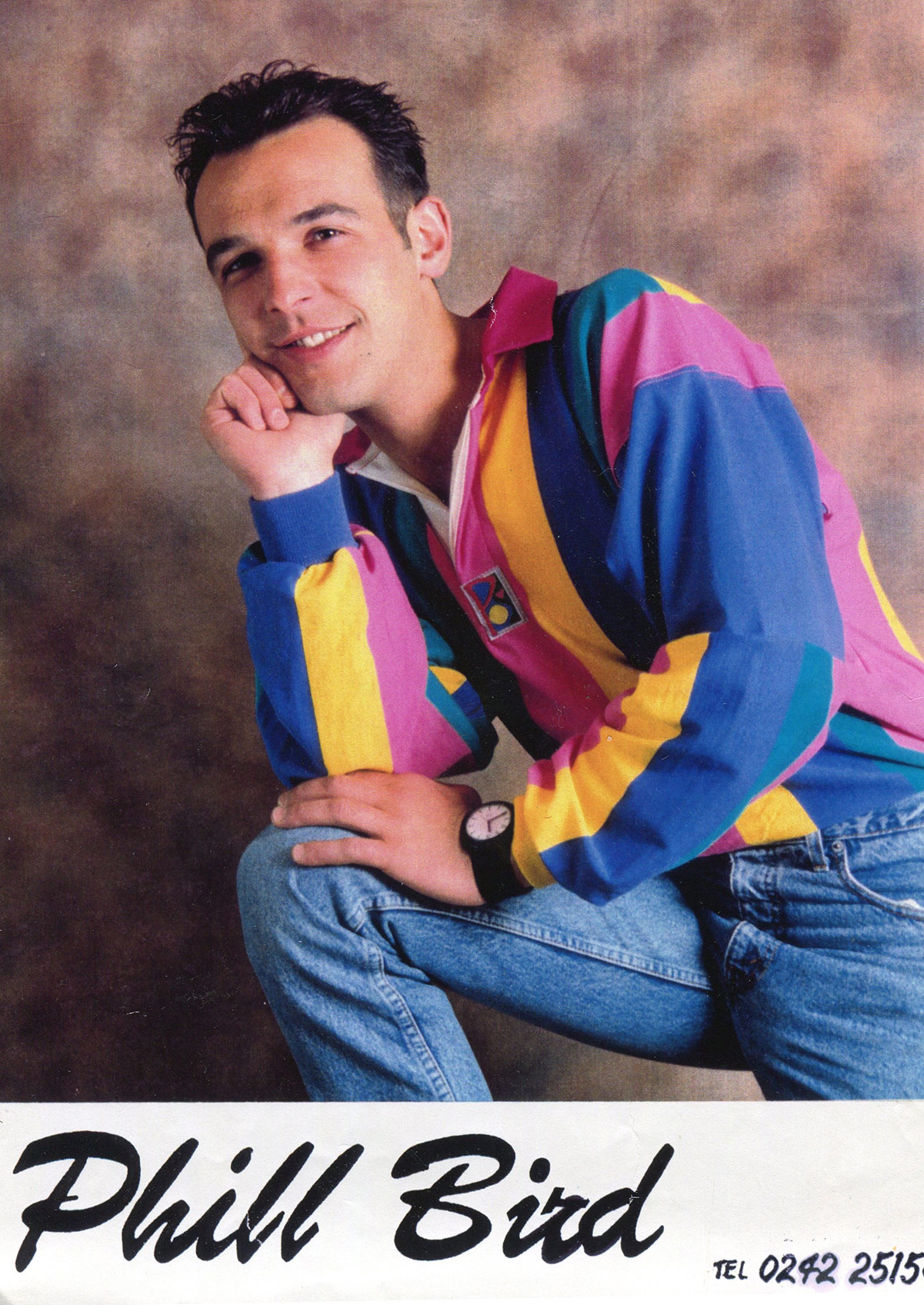 Here is something I think only Phill created A Franking Stamp for the envelopes going to prizewinners. SS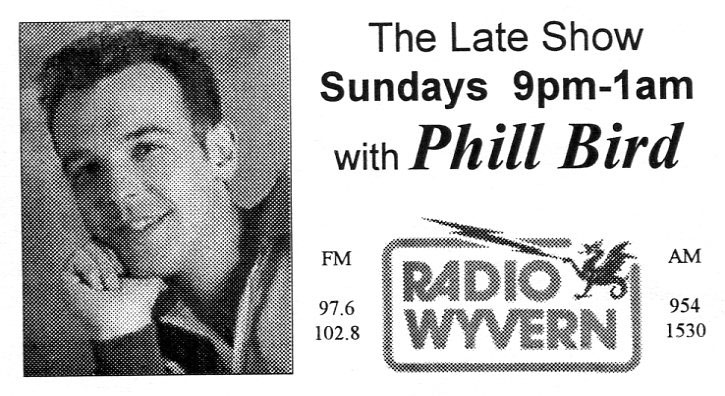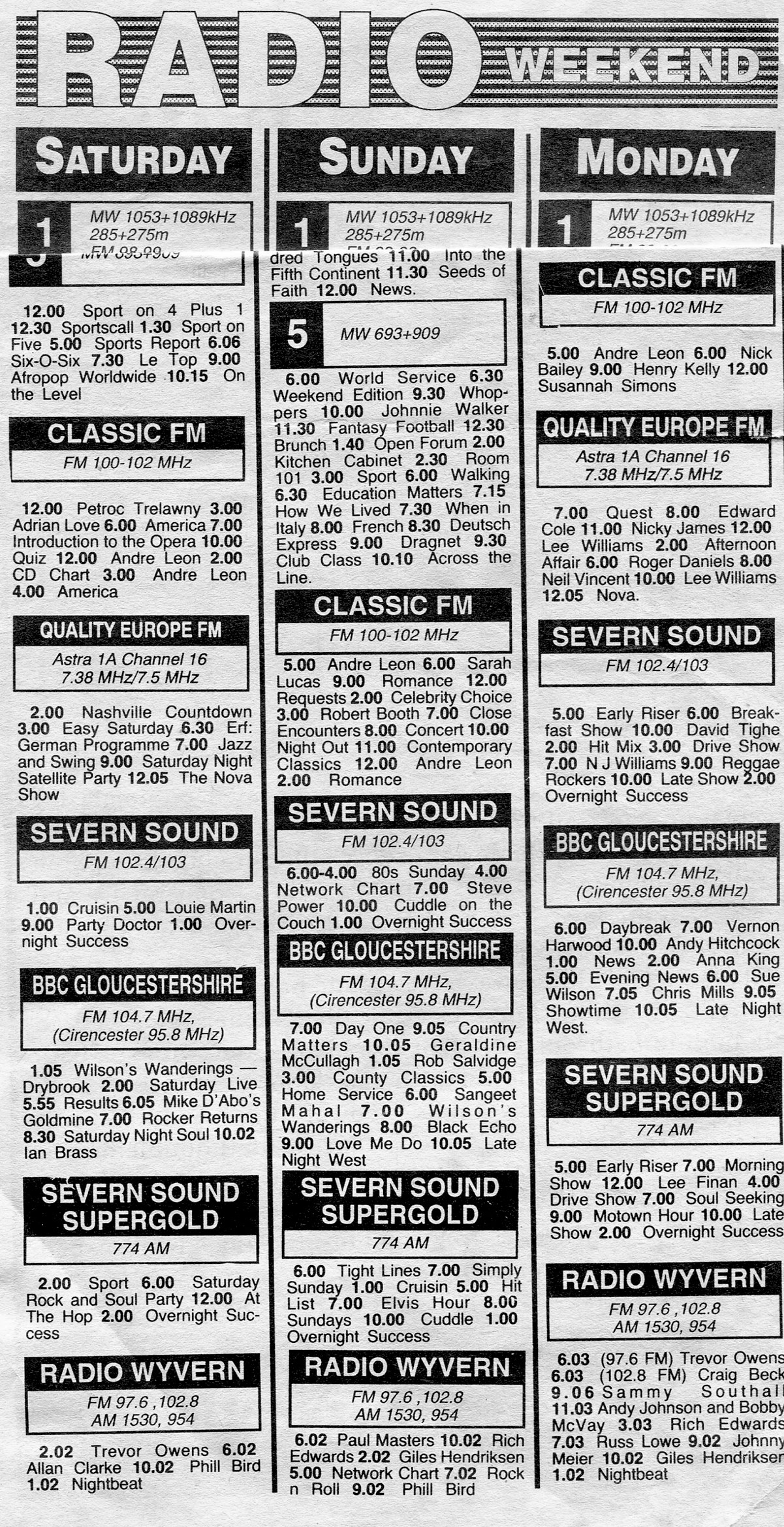 https://mywyvernstory.co.uk/wp-content/uploads/2017/10/phill-bird-radio-wyvern.jpg
602
1201
sammy
https://mywyvernstory.co.uk/wp-content/uploads/2017/09/wyvern-story-logo-orig.jpg
sammy
2017-10-05 13:50:57
2017-10-13 09:05:35
Phill Bird Wyvern Cheltenham