Gill (Manley) Edmonds Wyvern News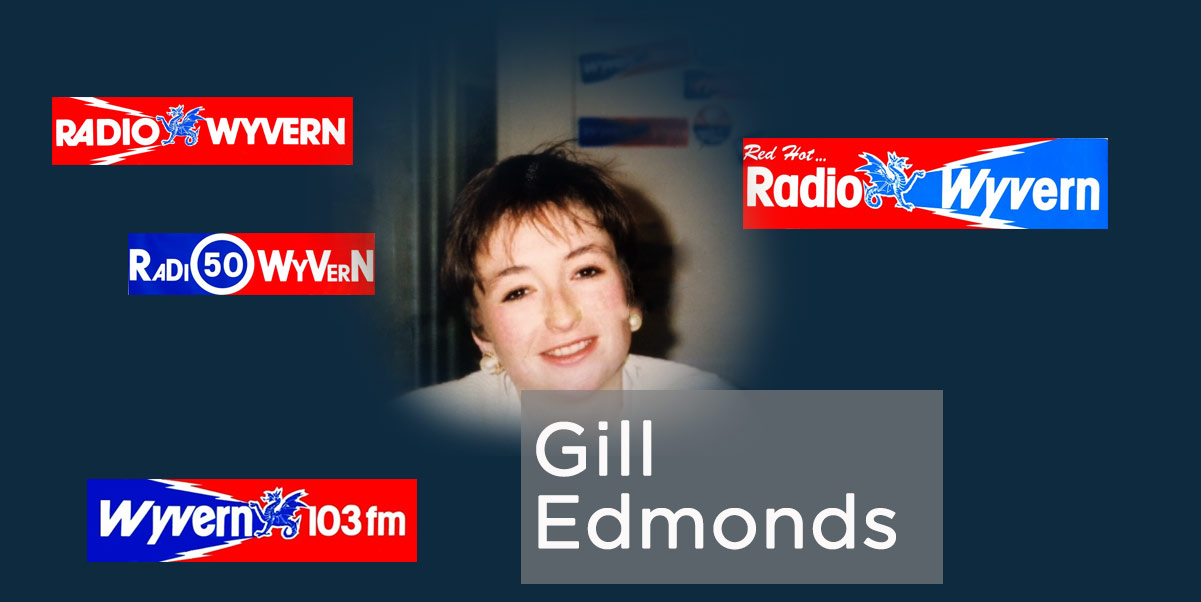 Gill Manley (Edmonds) Jan 1991-March 1992 I was going nowhere, writing advertorials as a freelance for the Kidderminster Shuttle, when my dad suggested in the strongest terms that I should "get a proper job". My mum had died a few months before and all I had was a degree in modern languages and no clue what I wanted to do. I had always fancied a job in radio but had done absolutely nothing about it. Nothing. So just to keep Dad quiet I wrote to Radio Wyvern asking for work.
My letter apparently arrived in the week that one of the newsroom staff was "let go" in a row over where she should or shouldn't park her car. Thank you, Katie.
A lady called Stephanie rang to ask me if I would go in for an interview the next day and I told her I had a meeting set up for the Shuttle but I would try to change it.
Good move.
There would not have been a second chance, I found out later.
I was shown up to a large office on the first floor and met the Boss who asked me if I was related to John Manley? Nope, I said. Turns out that was the right answer.
Then the Boss told me I was way too old to start in radio (I was 24) but he'd take a chance on me and would pay me £115 a week. He then corrected my grammar and sent me on my way making me feel like I'd been given the keys to the castle and simultaneously kneed in the groin.
Two days later I was introduced to Gail Adlam in the newsroom (the only other person working in news at that time apart from Gareth who seemed to do a bit of everything) and that very afternoon I read the sports news.
Live.
On air.
I couldn't believe they'd let me anywhere near a microphone.
My career, which lasted twenty years, had begun. My dad eventually stopped worrying.
For the next fourteen months, I pretty much lived at Wyvern and I LOVED it. My home was the ground floor newsroom which had three desks, three typewriters – but never three people working in it – plus a UHER reel-to-reel recorder which weighed almost as much as I did and a walk-in fridge where we'd record phone interviews and voicers for the breakfast, lunchtime and drivetime bulletins.
These bulletins of local stories were tacked onto the end of the IRN news after we'd teased them over a menacing bed in the ten seconds up to the hour…"Details coming up…"
That music bed always made my heart race. Even if I heard it at an hour when we weren't doing a bulletin I would go cold thinking I should be in the studio. And of course one day I was chatting to Dawn in reception when the dramatic music sounded and I wasn't in my seat. How did I not get shown the door that day?
When I first started Gail would do the earlies (5am-midday?) and I'd do the lates (11am-6ish) but then Gail left to join the navy and it was me and a bit of Gareth. I did earlies six days a week for a year. I didn't mind a bit.
While we were reading our bulletin we'd set a cassette recorder to tape BBC Hereford and Worcester's news, just to make sure we hadn't missed anything. If we had then a similar story might just find its way into the next hour's bulletin….
About six months after I started a young man called George Edmonds was introduced as the newest member of staff. He'd just graduated from Oxford and had written in asking for work. The Boss had given him the job of running the Snowball but he was to help out in news too. Relationships were frowned upon but I think the Boss and Steph knew. I seem to recall a passing comment from them about me wearing a bit more makeup than usual for my early morning shifts.
I bought my first house round the corner in Woodbine Road, a house which became a home for many a Wyvern employee even after I moved to Red Dragon. It was about ninety seconds door-to-door, unless you had to go via the newsagents to pick up the morning papers which made it a rather arduous four-minute commute. Steph says she remembers George arriving for work in slippers. I think he walked in barefoot on more than one occasion.
One day I was asked to go up the Boss's office. Filled with concern and trying to work out what I had done wrong I climbed the stairs and knocked on his door. He called me in and told me that I could choose my Christmas "bonus" from a selection of CDs and videos laid out on a table and to hurry up before he changed his mind. I scanned the titles. I didn't really want any of them but I had to choose. I picked up Dances with Wolves, muttered a thank you and returned to my post downstairs wondering what had just happened.
I have wonderful memories from that time and when I think back to how important it was to me I can't believe I was only at Wyvern for 14 months.
My job was in the newsroom but I'd be called upon to don a sweatshirt for The Three Counties Show or hand out leaflets in Cheltenham, help out on the Snowball song or sing a version of "3am eternal" as a jingle for Paul Masters.
I made fabulous friendships during my spell (Andy Johnson, Bobby McVay, Giles Hendriksen, Jamie Doward) and even with those former Wyvern souls who'd crossed the river to the BBC but still held a fondness for Barbourne Terrace (Jane, Katie, Ed, Mark).
Really though I owe so much to the Boss. I always say that if you could work for him you could work for anyone.
Who else could get George, Andy and me to wade waist-deep in freezing water ON NEW YEAR'S DAY collecting pennies from the fountains in a Cheltenham shopping centre? The centre had said Wyvern could have the money for the Charity Snowball if we'd go in and get it on one of the only days it closed.
Who else could get me to run a mile uphill with the Worcester Rugby Club (pre Warriors days) when I'd never run anywhere ever before or since.
Who else could tell me I'd never make a journalist as I was too "soft-hearted" but try to sell me the ageing and clapped-out UHER because "every self-respecting journalist should have one"?
Who else could get me to sing a Madonna song in front of shoppers in Cheltenham (same centre, different day) and on air? Actually, the answer to the last one is anyone could. I rarely relinquish a karaoke mic without a fight.
Wyvern gave me my husband (therefore my kids) and a twenty-year radio career which culminated for me in twelve very happy years at BBC Radio 5live.
I am so glad the Boss took that chance on an old lady.
Wow it was sink or swim very often – I have a few pictures to post here, can't find them yet, Gill -SS
https://mywyvernstory.co.uk/wp-content/uploads/2017/10/gill-edmonds.jpg
602
1201
sammy
https://mywyvernstory.co.uk/wp-content/uploads/2017/09/wyvern-story-logo-orig.jpg
sammy
2017-10-11 19:36:27
2017-10-13 13:02:55
Gill (Manley) Edmonds Wyvern News