Andy Kench Wyvern FM Perdiswell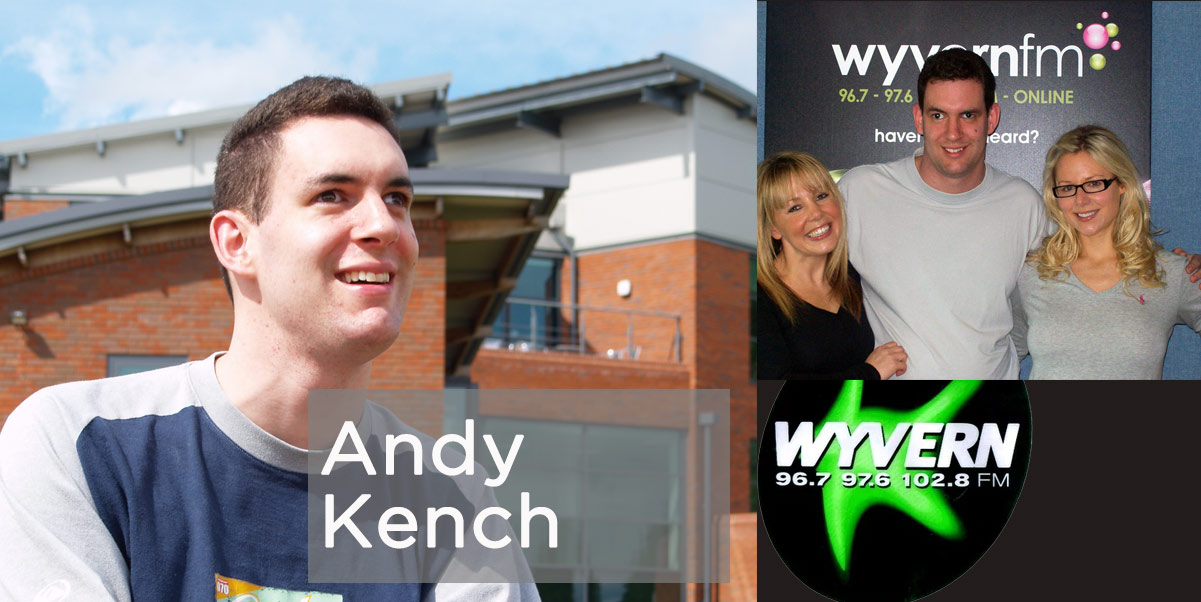 Andy has sent in some great audio of his time at Wyvern FM – please more pictures and recollections from these days too.
I share these as strange stories now with a good-natured sense of humour, not to poke fun at the station or its parent companies while acknowledging the occasional insanity found therein.
 Among my more amusing memories of the time at Wyvern FM are the times when:
I was on-air on a Bank Holiday Monday presenting a countdown scheduled by the network programmers in Bristol (in the GCap days) and when I asked on the previous Friday what is was a countdown of, how it had been compiled and therefore how it should be presented, they told me 'it's up to you.'  I checked if it was based on requests, text messages, radio play, sales, etc. etc. but apparently it was none of the above, it was just a countdown they'd made up and I was to decide how to present it.  I had a lot of fun building tension toward the 'number 1' and managed not to mention all show anything about how the countdown was put together!  I even had people from the station saying they enjoyed it, and fortunately, no one asked what I was counting down!
I was asked to make a promo for the West Midlands Safari Park that wasn't allowed to mention animals.  Yve Daniels the then S&P salesperson sold a promotion tot he West Mids park for Guy Fawkes night (in 2007 or 2008 maybe) and I, thinking it was odd to have fireworks near animals put together a promo that said something like "Normally animals and fireworks don't go together (cue animal howls and cries) but have you noticed how things work differently in Kidderminster?" and we sent it to the client for approval and they came back with "Don't mention the animals" which seems like an odd thing for a safari park to say; aren't the animals usually the selling point, or is that just being old-fashioned?  Anyhow, we made a new version because apparently the animals are all stowed away or put in a coma or something during the winter (probably the former) and so people were invited to come see a fireworks display in the safari park with no animals around.  It just seemed like one of those definitions of irony people talk about!
 I attach audio of promos I made for various events, including a Race For Life montage with incredible actuality that I look back on as a great piece of work for that event that we always supported but didn't often exploit for audio in the way that we did on this occasion (Spring 2009 I believe it was).  The Millionaire sketch was with JD and Helon Wheels and was done in response to an article that said police would allow suspected drunk drivers to take a 'Millionaire' style quiz to avoid getting a fine/points and also dates from 2009.
Race-for-Life-Run-Survivor-Montage
Millionaire-Sketch
Rock-Shop-Recover
Hollyoaks-Football-Match
Runaway-Bride-Winner-Montage
I am sure these will bring back a lot of memories
https://mywyvernstory.co.uk/wp-content/uploads/2017/09/andy-kench-wyvern-fm.jpg
602
1201
sammy
https://mywyvernstory.co.uk/wp-content/uploads/2017/09/wyvern-story-logo-orig.jpg
sammy
2017-09-30 10:05:32
2017-09-30 15:21:40
Andy Kench Wyvern FM Perdiswell