Stuart Ellis Radio Wyvern
July 1987
I'd met Nick Wright about a year earlier when I was working in a record shop in Redditch, and Nick came in searching for compilation albums on a certain label because they were "non needle time". He was presenting the overnight from Beacon that was shared with Wyvern, Mercia and I think Signal (early networking!). The only way he could play songs anyone had heard of was by digging out these compilations. I told him I worked at Bromsgrove Hospital Radio and that Wyvern's Allan Clarke was our Chairman – even though I don't think I'd met Allan then! Anyway, I ended up going
Anyway, I ended up going into answer Nick's phones and do his PRS for him, and when he moved to Wyvern I pretty much tagged along to do the same there.
I think one of the first things I did was stand outside supermarkets collecting tins of beans for the Christmas hamper appeal with Sammy. That lead to tech-op shifts driving OBs and the Network Chart with the Kid at the controls. Norman always seemed really suspicious of me, and I felt I was being sneaked in the back door so he didn't find out I was there. Luckily Sam seemed to be on my side so I persevered. I remember former Manfred Mann singer Mike D'Abo coming in for an interview, and Norman giving him the afternoon show for a week, as you do. I had to sit behind him and lean over to pull the mic fader down when he finished speaking as he'd never driven a desk before. It's my go-to anecdote whenever I play Handbags & Gladrags to this day.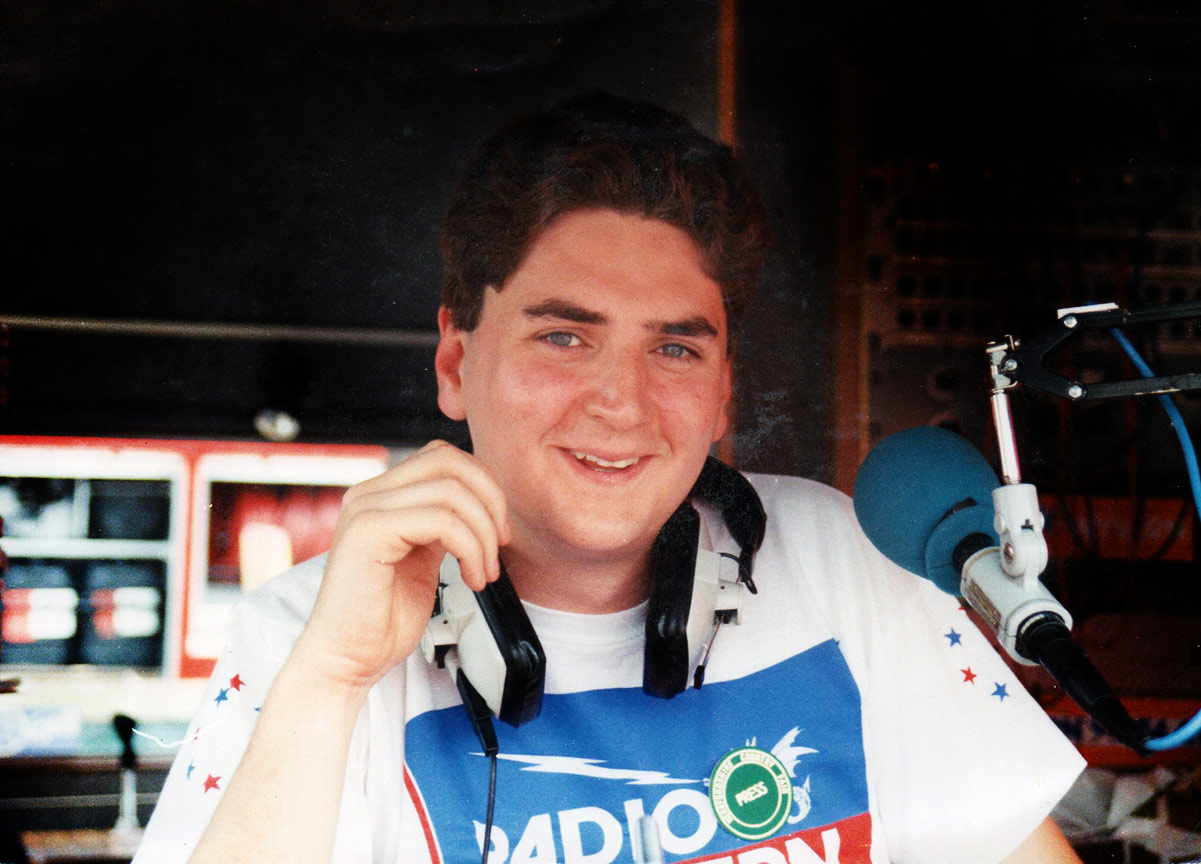 My big break came at 10 pm on Thursday night 16th July 1987. The shared programming from Beacon had been going downhill for a while, the other stations had slowly pulled out and Beacon had tried every trick in the book to make Wyvern bugger off too. Eventually, it worked, Norman snapped and pulled the plug and I got the call (no idea how because nobody had mobile phones) "you're on tonight".
It's funny that after years of radio bedroom and hospital radio, the ambition and build up, I'm sad to say my professional debut is a total blur. I know John Hellings was on before me with the Jazz show. As always he was calm, supportive and helped pour me into the chair during the news. I know my first song was Billy Joel – A Matter Of Trust, a minor hit which shows why presenters don't get to pick their own music these days. I think I'd spent longer in the library picking songs than the length of the actual show. I've no idea what I talked about or anything else about those 4 hours. There was probably a call or 6 from Marie in Broadway. I had to actually close the station down at 2am and run into the racks room to put the test tone on. I must have done something right because I was on the next night, and the next…..I've still got the "memo" from Norman after night one, typed by Steph (in pres, can you hear?).
If someone had told me that night would be the start of a 30 year career, I doubt I'd have believed it. My time at Wyvern was relatively short, but the things I learned and the friendships I made have endured. Ian Fish became my producer on Heart Breakfast, Gareth Roberts became my boss at Century and now the BBC. Elliott Webb was even my lodger briefly in Manchester and it all leads back to Barbourne Terrace.
The lovely footnote to this is that on Sunday 16th July this year I celebrated my 30th anniversary in radio. I was actually covering for my good friend Graham Torrington, and although his show comes from Birmingham it is carried by BBC Hereford & Worcester so at 10 pm I was back where I started. And the man on before me? John Hellings with the Jazz show.
And with kind permission Start has sent us the memo to share. SS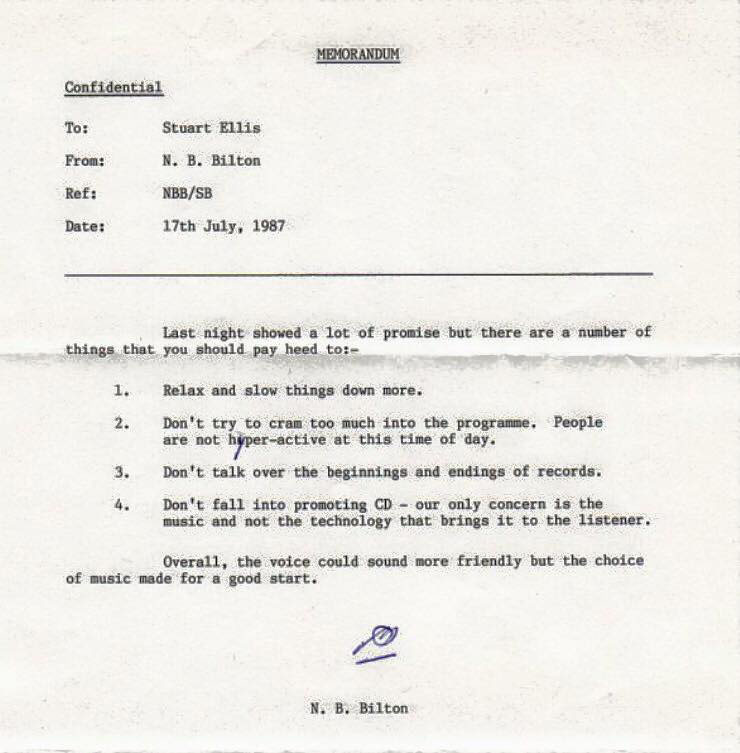 A newspaper piece about the trip I did to France with Hereford Police and a picture doing an OB in the legendary Wyvern caravan.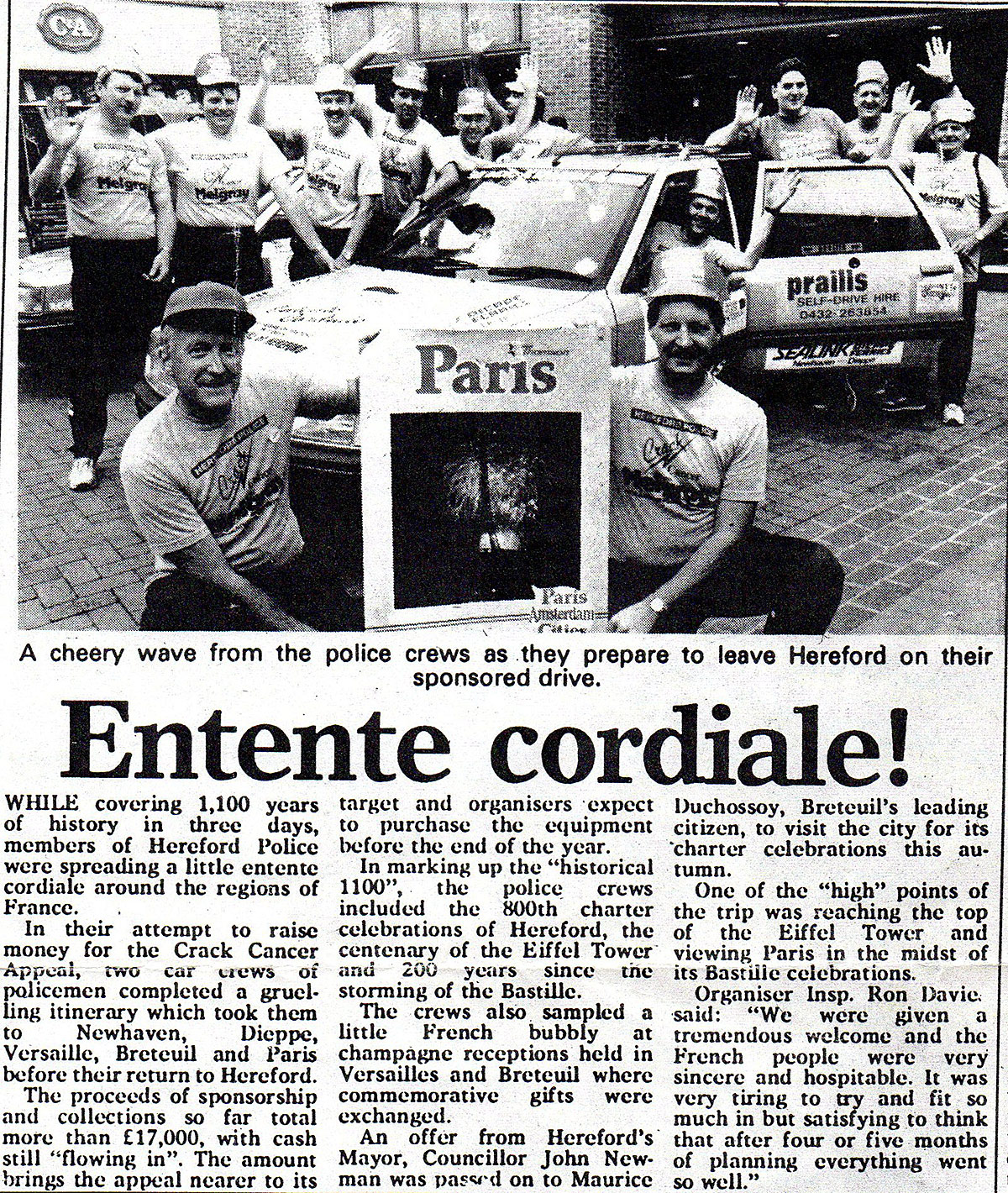 https://mywyvernstory.co.uk/wp-content/uploads/2017/09/stuart-ellis-radio-wyvern.jpg
602
1201
sammy
https://mywyvernstory.co.uk/wp-content/uploads/2017/09/wyvern-story-logo-orig.jpg
sammy
2017-09-30 00:16:41
2017-10-02 11:17:50
Stuart Ellis Radio Wyvern