Mel & Tony Peters Get Married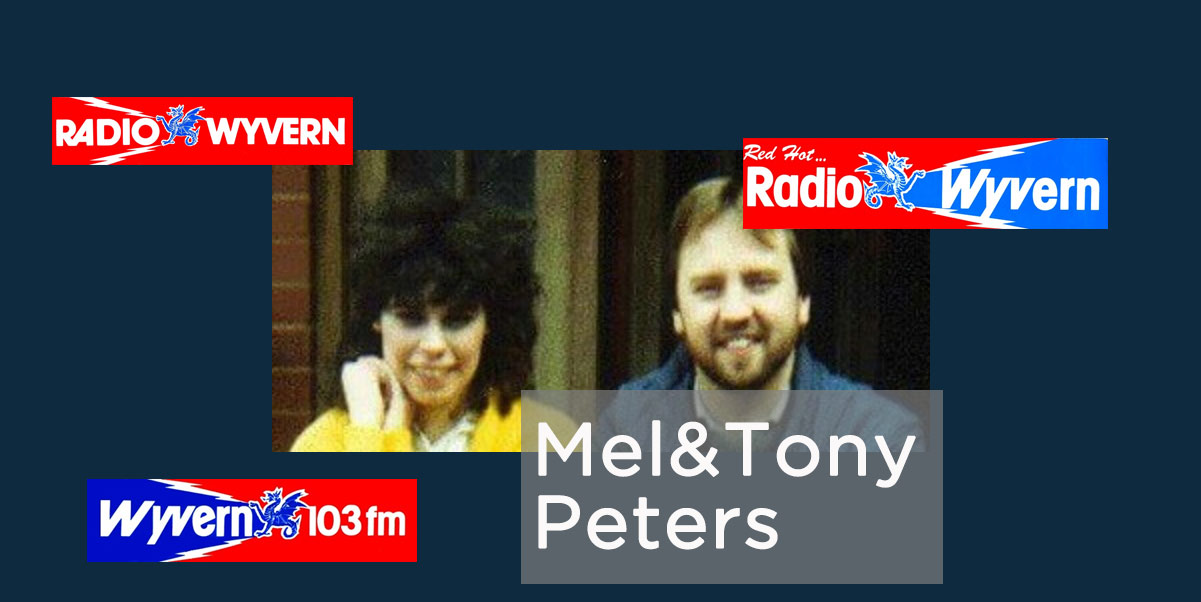 I married the DJ who played me a song for Valentine's Day. 1988
It had been an ordinary February the 13th.  I'd spent the day doing not very much, lazing about the house in the cold.
To ease the boredom, I flicked the radio on.  Slurping on coffee and biscuits, I eased myself down onto my comfy bed, wrapped myself up in the duvet, and shivered to the music.  Tiffany's 'I Think We're Alone Now' or something along those lines…
As it neared midnight, I started to think about switching off and getting some shut-eye, until the DJ said, "…and in the next hour I'll be taking dedications for the special person in your life, and playing all your favourite love songs, to wish them a 'Happy Valentine's Day'".
So, I left the radio on, and just as he'd promised on came the usual 'Will You' by Hazel O'Connor, 'Love and Affection' by Joan Armatrading, 'Three Times a Lady' by The Commodores…
As it got to 20 past midnight and all the regulars had been mentioned, a sudden flash of madness came over me.  I'd 'phone the radio station for a song!  But who to play it for?
What were the numbers again?  Worcester 612512 or Hereford 272727.  Ok, here goes…  It's ringing!!!
"I can't back out now" I thought to myself.
"Hello, Radio Wyvern!" said the voice on the other end of the line.
Oh no!  It's him!
"Hi!  My name's Little Mel and I want to be the first person to wish you a Happy Valentine's Day!"
I'd been listening to Radio Wyvern's Late Show with Tony Peters since the 3rd of January, since I'd found a frequency to stop at that caught my attention.  I'd outgrown Radio 1 and I didn't have the patience to wait for songs I liked on the other stations.  Wyvern was playing popular music from every era, all genres, and my Mum even liked it (which was a bonus)!
The morning of 27 February.  It was cold, and I was in a skirt.  I must've been mad!  But then, I had to make a good impression.  I was meeting the disc-jockey!
I'd checked the bus times, but I was so apprehensive and excited that I hadn't noticed that the time I thought the bus left Monmouth was actually only on a market day!
I walked in from the bus station, dragging my feet, very despondent, fed up with myself.  How stupid could I be?
Mum made a hasty call to one of the taxi firms whilst I re-adjusted my tearstained face.
As the taxi driver took me into Hereford bus station, I looked, and then looked away with embarrassment.  Yes, that was him…
"Hello…"
"I've just spoken to your mum.  She said you'd missed the bus or something."
"Mmmmmm, it was a Wednesday only bus…" I mumbled.
After the awkward silence that seemed to go on longer than the couple of seconds that it really was, he asked, "Shall we go for a coffee or something…?"
And they have both lived happily ever after – Tonys story is coming soon. SS
https://mywyvernstory.co.uk/wp-content/uploads/2017/10/mel-and-tony-peters.jpg
602
1201
sammy
https://mywyvernstory.co.uk/wp-content/uploads/2017/09/wyvern-story-logo-orig.jpg
sammy
2017-10-11 20:35:20
2017-10-13 13:21:40
Mel & Tony Peters Get Married