James Robinson Listeners Story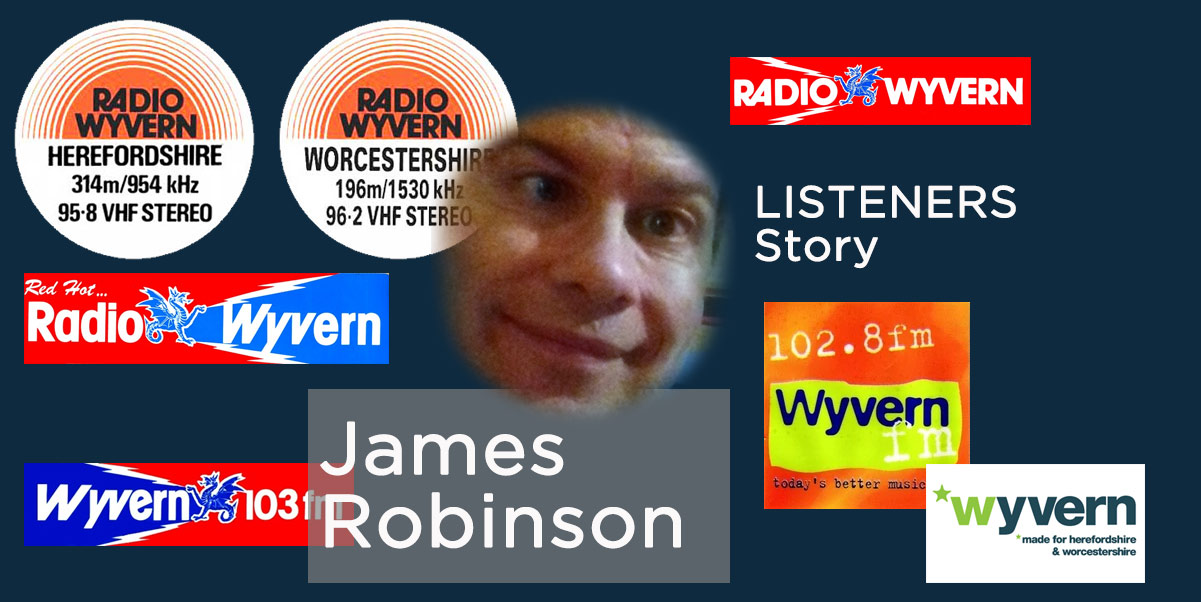 Several listeners have been in touch having read about our little site on the Radio Today page offering their story of listening to Radio Wyvern – As they were the main reason we were there in the first place I will be adding some of the stories to the site. Here is a great trip down memory lane from James Robinson who has some recollections many of which had faded in my memory Thank you James. SS
The first I heard of Radio Wyvern was on Engineering Announcements in August 1982 – on the day tests began.  At that time I was 11 and a half, had only recently heard of the city of Worcester, and only knew about it from the blind school which some people at the Royal School for the Blind passed an examination for in March 1982 starting there in September 1982 – a month before Wyvern started.
So with my little radio of the day, not as good as receivers of today, I tuned into 1530 kHz after dark, and low and behold underneath Vatican Radio after 2000 hrs, was "Beeeeeeeeeeeeeeeeep".  An announcement every ten minutes or so identified it as Radio Wyvern, so I knew I could hear at it at night.  I still live in the same house in Oxton, Wirral.  My only loss since then is my mum who died on January 23 and I miss her oh so much.
Before 2000 each day, was a mixture of not just easy listening and contemporary pop, but also classical music and other stuff which you don't hear these days.  The only track I actually remember from the test transmissions of Radio Wyvern was "The Syncopated Clock".  Don't know the artist or the orchestra that played it but it is a lovely piece – which you never hear today.
The best time to hear Wyvern in Wirral was early morning around 0600, as Vatican Radio did not broadcast at this time of day so for about an hour, I used to hear it almost perfectly in the early morning.  BTW at this time I still did not know where Worcester was on the map – I had only heard of it but had no knowledge of the place or its people etc.
I was lucky enough to pass the entrance exam in 1983 for what was then called Worcester College For The Blind.  It is now known as New College Worcester, is no longer an affiliate of the RNIB, and operates as an independent special school for visually impaired students, aged 11-18, but they are looking at adding 19-25 as well but not sure when.
I only actually visited the studios twice – one in 1984 and the second time in 1985 – just after the logo was changed to the red white and blue one, (used to be the orange sunrise with black writing).  The receptionist actually gave me the remaining orange stickers which would otherwise have gone in the bin.  I have them in a shoe box somewhere at home.  They are NOT lost but mislaid at present and I just don't have time to look for them.  I will, however, look after them.  They were given to me in good faith as they would otherwise have been got rid of.  Many of them remain unused, but some are on my bedroom door – I will attach a jpg of what I have.
So when we visited in late 1984 (I think it was around November), I did get a tour of the studios.  I was also shown where they used to have overnight sustaining feeds from.  The 1kHz tone is my earliest memory, but it did return in 1987.  More about that later.
The good thing about Wyvern was the music it played.  It was not a bog standard ILR of its day – it was more contemporary and more like a modern Light Programme but with a sprinkling of pop and rare music you don't hear anymore.
Sundays became an oldies day so only oldies were played on Sundays all day – but now you get all these songs that were played elsewhere.  However, at the time, there was no other outlet playing these songs of yesteryear apart from Radio 2 I would guess.  I even requested an obscure old song one Sunday and it turned out you did not have it it was that rare.  That was unfortunate.  However, I did get my alternative played – Ring of Fire by Johnny Cash – which was not a hit until 1993, when it reached no 79 and was in the charts for 3 weeks.
I remember Sammy Southall doing lunchtime, and you did in 1985 play "Goodbye Bad Times" by Phil Oakey and Georgio Moroder – and I have not heard it on the radio since.  I managed to track down the single, and have found it only reached no 44 in the charts – so ignored by modern-day radio but it is a better song than the one they are famous for.  Had I not been listening to Wyvern that Wednesday lunchtime I would not have known that song existed – so well done to you for introducing it to me.  It is one of my favourite songs of the 80s!
Other presenters I remember, Mike George, Rob Yarnold, Dave Aston, Nick Wright, Howard Hughes (who later read the news for IRN!), John Hellings (still on BBC Hereford and Worcester!), but who did the classical show on Sundays at 1900? ( David Hart – James SS ) It was very strange to have the Network Chart followed by an hour of classical music – you would never get that anywhere now!
The Wyvern Song theme was Boon and Murfin with the instrumental on the B Side.  Orange label with dark blue vinyl (see-through).  I think only 500 were made.  Someone found that for me as well but again I am not sure where it is at present.  *It was put away safely.  I will endeavour to find it sometime.
In 1984 from October 4th, or at least that week, Wyvern started taking Beacon overnight from 2200-0600 and on Sundays from 2100-0600 overnight.  Presenters were Andy Wint, Graham Hall, Pete Clements (with "Naughty Nelly"), Bob Davis, Nigel Bayard, Myatt and Perry and Geoff Cooper.  On Sundays, there was also John Hammersley, who presented "Sunday Evening" – a religious pop show rather like what UCB does today – but for just one hour a week 2100-2200 Sundays.
I do have a couple of the night announcements, plus an entire "wrong" jingle package given to me by Worcester Hospital Radio.  I will have to dig that one out and get that to you as some of the jingles were to my knowledge never broadcast and could otherwise be lost forever  Just hope I can find it!
Between 2200-0100 there was identical output to Beacon including adverts, but from 0100-0600, adverts were split 5 ways between
Beacon 97.2 (host), Radio Wyvern, Mercia Sound, Severn Sound, Wiltshire Radio, Signal Radio
Beacon was the only station to carry this in stereo.  Everyone else was via mono landline which I discovered during my November 1984 visit, was up 24 hours a day.  There was one Saturday morning in 1986, when Gordon Astley was heard on Wyvern until 0648, because the breakfast presenter had overslept and generic Beacon output was aired from 0600-0648 as the relay had not been turned off in time!
I mentioned the 1kHz tone – that returned in 1987 when Beacon Shropshire started.  Nightline was on all stations mentioned above, and Wyvern took Beacon from 2200 and everyone else joined at 0100.  But Wiltshire Radio dropped the programme in 1986, then Severn Sound dropped it and took a feed from Bristol instead, then Mercia left the network, then at New Year 1987, Signal dropped it, and finally, Wyvern left Nightline in July 1987, shortly before the launch of Beacon Shropshire.
At this point there was 24 hour output sourced from Worcester , but NEVER was there a 24 hour live programme output on Wyvern's transmitters at any time.  The 0200-0600 slot was, after Nightline, taken by an automated music programme called "The Prince Of Darkness".  We were lead to believe that a DJ was there but of course there may have been someone monitoring the output, but maybe not.  The music just played out uninterrupted until live programmes began again at 0600.
This only lasted a few months, until September (I think) 1987, when the 1kHz tone returned between 0200-0600.  This remained until around the start of 1988, and an additional night-time show was aired live from Worcester between 2200-0200 each night.  Can't remember the presenter but this carried on until 1 July 1988 when The Superstation started.
This was a sustaining service, first from London, then Guildford, then Manchedster, during its two years on air via Eutelsat ECS1 at 13 East, a radio station which belonged to Super Channel, and owned by Richard Branson.  Wyvern took Super Station from 2200 each night, even after the service was extended to start at 1900 when Jonathan Ross had a show, but that was never aired on any station to my knowledge.  Phil Kennedy started at 2100, but everyone took the rest of his show from 2200.
Early presenters on Super Station were Ruby wax, Johnny Walker, Dianna Luke, ad Nicky Horne.  The last presenter on the Superstation was Tony Adams of Radio Luxembourg, and by that time it was only on two stations – the host station Key 103, (Picadilly), and Moray Firth Radio (Inverness). Wyvern stopped taking it a week before when the station went bust.  The reason for that was that Wyvern only took local opt-outs until 0200 each night, when the news was aired on the hour.  Super Station did not have news originally and music was played for 3 minutes to fill the gap.  This went out without any opt-outs from 0203 until 0557 – meaning that at 0300, 0400 and 0500, no news was broadcast at all and the presenter used to play a record.  The show at that time of night was called "Night Tracks" which ran from 0200-0600 each night.
Eventually the Superstation took the news itself, meaning that there was no need for anyone to play out local adverts, so nobody got any adverts at all.  All that was relayed was the raw 13 East satellite channel meaning the station went out of business at the end of October 1990.  They only carried on until 6 November to allow other stations to find an alternative night-time service.  I cannot remember what happened to Wyvern after that.  The only exception to the regular arrangements was on election nights when local output did take place all night.
The only other memory I have of Wyvern was in 1991, when the Gulf War was in progress and you did an extra news jingle for the bulletins on the half hour from IRN.  Your voice-over said "24 hours a day round the clock, this is Radio Wyvern with all the latest news from the Gulf".  This was not played on the hour – just the bulletin on the half hour which was added during the conflict.  I have that jingle on cassette somewhere.
The last time I heard Wyvern in person (ie NOT online) was in 2012, shortly before the current rebrand.  I lived in the area from 1983-1992 (term time only), being at Worcester College to 1989, and RNC Hereford from 1989-1992.  I only remember one occasion when Hereford transmitters were split from Worcester – and it was for a special outside broadcast which was only carried on Hereford frequencies, but adverts were nearly always split during the day but not at night.
One final memory was from December 1990 – during the big freeze.  I was at RNC in Hereford at the time.  One Saturday morning, there was thick snow on the ground and there was a power cut so 102.8 MHz went off air completely.  I tuned into 1530 kHz to try to cary on listening only to hear a crackly Radio Trent (Derby)!  I rang Radio Trent in Derby to inform them that their owtput was on Radio Wyvern, and they said "on Radio Wyvern?  How come?".  Sadly I could not tell them, and I only realised after 102.8 came back on again.  I rang Radio Trent back to tell them why they were on Radio Wyvern.  They were quite surprised as to what I discovered.
What happened was the 1530 kHz transmitter was in fact a 100% relay off air of the 102.8 feed via a radio receiver!  It meant that the aerial on the roof in Worcester, when the 102.8 feed was off, was picking up 102.8 Radio Trent (the station that became Ram FM), as a weak signal because it was so far away.  I could not believe this had happened – but it did – I think just once.
I understand now that this would be illegal if such a setup was done today but to my knowledge there is no such setup these days.  Strange but true! ( amazing memory James SS )
Finally, yes I do remember Neil Fox as well.  In 1986 he had a show called "The Mellow Yellow Experience" in the evening, and he also did The Zoo Crew on a Saturday morning around that time as well.  Mellow Yellow Experience was a soul-based show.
https://mywyvernstory.co.uk/wp-content/uploads/2017/10/james-robinson-listener.jpg
602
1201
sammy
https://mywyvernstory.co.uk/wp-content/uploads/2017/09/wyvern-story-logo-orig.jpg
sammy
2017-10-02 09:50:44
2017-10-02 09:50:44
James Robinson Listeners Story